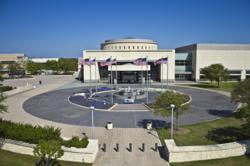 College Station, TX (PRWEB) October 05, 2012
The George Bush Presidential Library and Museum Education Department kicks off its fall education programs with "A Conquistador's Quest for Glory and Wealth" by Angel Vigil Oct. 10 at the Annenberg Presidential Conference Center at Texas A&M University.
The "Conquistador" historical storytelling program is for students in grades 3-7 and meets several Texas and national learning standards. Two free programs will be presented, from 10:30-11:30 a.m. and from noon to 1 p.m. CST. The on-site program is full, however the program will also be offered via distance learning.
The "Conquistador" program will allow students to follow the conquistadors' journeys on maps depicting their amazing discoveries; re-enact the ritual of planting the flag to claim a new land; understand why horses were such an important part of the explorers' victories; and hear stories of the greatest explorers such as Hernán Cortez, Francisco Pizarro, Juan de Oñate and the first European to set foot on Texas land, Álvar Núñez Cabeza de Vaca.
Other upcoming fall education programs include:

Oct. 18: "The Family Poet" by Wayne Edwards, grades 3-7
Oct. 25: "The Historical Essay" by Ron Powers, grades 9 to college sophomore; program is presented in partnership with the Mayborn Literary Nonfiction Conference to give students an opportunity to enter the national Mayborn Student Essay Contest.
Dec. 6: "A Heritage of Why Saving -$- Matters to YOU!" grades 3-7
For distance learning (live stream, videoconference, and recorded) register free online at http://www.connect2texas.net/bushlibrary41.
For more information about these or other education programs contact the Bush Library and Museum Education Department at (979) 691-4006 or email bush(dot)education(at)nara(dot)gov. Bus funding available.
The George Bush Presidential Library and Museum at Texas A&M University is part of the National Archives and Records Administration's Presidential Libraries network. The Bush Library and Museum preserves and makes available the records and artifacts of George H.W. Bush, 41st President of the United States. We promote civic literacy and increased historical understanding of our national experience, and foster a community of public service and volunteerism by offering rich educational and public programs, original museum exhibits and access to our archival holdings. For more information visit the Bush Library and Museum website at bushlibrary.tamu.edu.
###