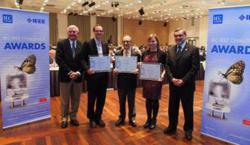 The IEC-IEEE Challenge first prize was awarded to Ken Krechmer from the University of Colorado, USA for his paper "Cloud computing standardization".
(PRWEB UK) 7 October 2012
GENEVA, Switzerland and PISCATAWAY, N.J., USA, 7 October 2012 – The IEC (International Electrotechnical Commission) and IEEE on Friday presented the awards to the winners of the global IEC-IEEE Challenge.
The IEC and IEEE were looking for publications that challenge the perception of electrotechnology with the goal of stimulating global discussion on the role technology plays in social, environmental and political development and how universal standards influence this process. The theme, "How does electrotechnology impact economic, social and environmental development?" attracted high-level submissions from universities globally.
The publications were judged by a distinguished panel: IEC Immediate Past President Jacques Régis, former CEO of Hydro Quebec, Montréal; Dr. Moshe Kam, 2011 IEEE President, and Department Head, Electrical and Computer Engineering, Drexel University; and Paul Markillie, Innovation Editor at The Economist.
The IEC is the premier electrotechnology standards body in the world. IEEE is the world's largest technical organization with over 400 000 members globally. Together they are the two most influential organizations in the area of electrotechnology.
The IEC-IEEE Challenge first prize and USD 20 000 was awarded to Ken Krechmer from the University of Colorado, USA (http://itp.colorado.edu) for his paper: Cloud computing standardization. His paper addressed how cloud computing promises to dramatically simplify the development and deployment of new economic, social and environmental applications. Such applications represent very large commercial opportunities. Standardization of the cloud computing building blocks and interfaces is vital to establishing multi-national markets and to balance the vendor's desire for commercial gain with the public's desire for open interfaces. Commercial gain and open interfaces need not be opposing goals and Krechmer's paper develops how the standards for these building blocks and interfaces may be designed to maximize both goals.
The second prize and USD 15 000 was awarded to Axel Mangelsdorf from the BAM Federal Institute of Materials Research and Testing, Berlin, Germany (http://www.bam.de), for his paper: The benefits of standards and standardization in the German electrical and electronic industry. Knut Blind, Chair of Innovation Economics, Technical University Berlin, Germany, is co-author of this paper. A summary is as follows: Economic and innovation policies directly rely on standardization. Standards support technological change, impact safety and the environment, and facilitate access to global markets for new products and services. Interoperability standards allow devices from different manufacturers to connect and thereby stimulate economic development. This publication presents a study conducted with 170 companies in Germany. It explores, among other things, how active participation in the standard setting process changes the perception of the strategic value of standards and the real benefits for companies. Based on this research, Mangelsdorf and Blind recommend implementation of a high-capacity, web-based portal to increase companies' participation in standardization processes and to encourage wider standards dissemination.
The third prize and USD 10 000 was awarded to Joyce van de Vegte from Camosun College, Canada (http://www.camosun.ca) for her paper: Bridging the divide with a three-way handshake. The paper discusses how historical differences in the access to personal computers triggered a "digital divide" between those who benefit from the Internet and those who do not. The divide encompasses many dimensions – economy, education, health, information – and has tangible effects on human development. The adoption of global Internet standards based on TCP/IP helped narrow the digital divide, and the author demonstrates how Internet standards help bridge other divides as well, improving equity in the economy, education, health, and communication. Van de Vegte states that the benefits of the Internet are still unavailable to many due to language barriers, and that translation will be the next frontier. Robust standards for translations between pairs of languages could produce a seamlessly international Internet, preserving diverse cultural content while offering an increasingly level playing field to all.
The Challenge demonstrates how innovation and technological advancement have shaped and continue to shape the economic and political landscape of countries all around the world. They remain important in providing new growth and job opportunities.
"Our collective vision for the IEC-IEEE Challenge is to empower the technologists of today and tomorrow in pursuit of engineering excellence, and encourage the next generation to stand at the forefront of technological change to create a better future for society," said IEEE Executive Director James Prendergast.
"Our two organizations have come together with the IEC-IEEE Challenge to stimulate academic debate on how electrotechnology innovation can help solve some of our global challenges," IEC CEO and General Secretary Ronnie Amit said.
And all judges agreed: "Participants in this year's Challenge have brought vision, creativity and insight to the question of the future role of electrotechnology and the importance of international standardization."
The award ceremony took place during the IEC General Meeting in Oslo in the presence of the winners and panel of judges.
Photos of the award winners available at http://www.iec.ch/mnet/media_resources/iec_ieee_challenge.htm
IEC-IEEE Challenge twitter hashtag: #IECIEEE
About the IEC
The IEC is the world's leading organization that prepares and publishes International Standards for all electrical, electronic and related technologies – collectively known as "electrotechnology." It brings together 164 countries and over 10 000 experts on the global level. IEC International Standards include globally relevant specifications and metrics that allow electric or electronic devices to work efficiently and safely with each other anywhere in the world. IEC work covers a vast range of technologies from power generation, transmission and distribution to home appliances and office equipment, batteries, nanotechnology, renewable energy, to mention just a few. The IEC supports all forms of conformity assessment and manages Conformity Assessment Systems that certify that equipment systems or components conform to its International Standards. http://www.iec.ch
About IEEE
IEEE, a large, global technical professional organization, is dedicated to advancing technology for the benefit of humanity. Through its highly cited publications, conferences, technology standards, and professional and educational activities, IEEE is the trusted voice on a wide variety of areas ranging from aerospace systems, computers and telecommunications to biomedical engineering, electric power and consumer electronics. As part of its activities, IEEE has an extensive standards development programme with a portfolio of over 900 active standards and more than 500 standards under development. http://www.ieee.org.