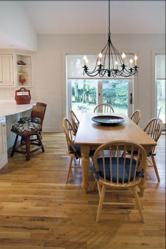 I believe in working with the client's taste and lifestyle to achieve a fitting design. It is important that my client's home is an extension of their living style.
White Plains, NY (PRWEB) October 08, 2012
After years of designing award-winning interiors for a variety of discerning metropolitan clients, interior design firm Shell Decor is expanding its services to the Hamptons. Shelly Linder, the luxury interior designer who operates Shell Decor, has built her reputation not only on her ability to provide her clients with exquisite aesthetics, but also on her keen business sense. Her ability to manage all the facets of a project, from design to construction, has distinguished Shell Decor as one of the leading interior designer Greenwich CT-based firms. Linder is enthusiastic about the firm's expansion to the Hamptons, as it will enable her to introduce her refreshing take on great interior design to the region.
"For 12 years, I've worked on developing solid relationships with both my clients and my professional associates," she says. "I believe in working with the client's taste and lifestyle to achieve a fitting design. It is important that my client's home is an extension of their living style."
Linder's ability to direct a project through all stages of the process is unusual among interior designers, Hamptons-based or otherwise. Her comprehensive understanding of how architects, contractors, upholsterers, antiques dealers and others work allows her not only to find the best possible design choices, but also to eliminate any unnecessary delays or problems with communication. She is able to anticipate the needs of each professional and create a design that can be implemented smoothly and rapidly. Her extensive network of contacts means that she is able to procure virtually any item or service in a very short time frame while remaining within the budget of the project.
Shell Decor provides clients not only with original interior design, but also with art and accessory projects, including holiday decorations, special occasions, and art collection assembly and presentation. Understanding how to display a collection for viewing is almost as important as sourcing each individual piece. Linder helps clients enjoy their art to the fullest in comfortable settings.
In all of her design work, Linder approaches each client with the idea of creating a "home environment" where comfort, style, and taste commingle effortlessly. The firm's portfolio includes kitchens and baths, commercial spaces, public and private spaces, with an emphasis on detail. The firm's motto, "Living Well With Style," is rooted in the philosophy that each part of the design must meet high quality standards in order to create an environment that is naturally relaxing and exquisite. The right piece of art or color choice can make the difference between a gorgeous interior and a "good try." Years of rigorous work have shaped and honed Linder's instincts, allowing her to quickly determine how best to shape a space.
The Hamptons, with its natural scenic beauty, opens up an entirely new palate of light and color choices for Linder. Many of Linder's clients in Greenwich, CT, have secondary homes in the Hamptons. Linder enjoys creating spaces that both uphold the personality of her clients while reflecting the beauty of the natural surroundings. She looks forward to bringing Shell Décor's refined sensibility to the Hamptons.
Shelly Linder, the principal of Shell Décor, brings her warm personal style and meticulous attention to detail to interior design projects of every size and scope. She pairs creative vision with deft managerial skills—a rare combination of artistry and organization necessary to oversee every phase of design, decoration, construction or renovation.