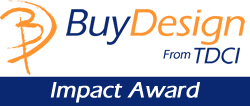 We commend each of our winners for demonstrating exceptional dedication in addressing the technology and business challenges of its customers
Columbus, OH (PRWEB) October 08, 2012
TDCI has announced the winners of the 2012 BuyDesign Impact Awards. The annual awards honor BuyDesign users for delivering innovative solutions during the past year that positively address customized products business challenges. Award winners were recognized at TDCI's Perspectives 2012, the sixteenth annual user conference for TDCI customers, resellers and partners, held September 19-21 in Columbus, Ohio.
The BuyDesign Impact Award recognizes individuals within the international BuyDesign user community who have played an exceptional role in the deployment of the technology within their company. Nominated by their co-workers, the three award winners were selected by a TDCI BuyDesign panel for the individual's contribution toward the successful deployment of the product configuration technology.
Micah Piorier, Applications Developer at Wausau Supply, received this prestigious award for his achievements in the deployment of the BuyDesign configurator technology.
Presenting the award, TDCI Chairman of the Board, Rhonda DeMuth brought forward: "Micah Piorier has been instrumental in the design and implementation of BuyDesign at Wausau Supply. He quickly took ownership of the project with an extraordinary commitment to quality and detail." As a result, Wausau has moved ahead of the competition, and is now on the offense to build market share in the company's expanding markets.
Vickie Arnett, Programmer at Great Plains Manufacturing, was awarded the BuyDesign Impact Award for utilizing her extensive product knowledge and "unlimited energy" to author the set of BuyDesign product models in use by the company. Vickie's BuyDesign models have enabled Great Plains to handle five times the order volume without increasing headcount. BuyDesign has virtually eliminated order errors and continues to help position the company as a leader within the agricultural equipment industry.
Ben Flach, VP of Information Technology for TruStile Doors, was cited with superior leadership in the organization wide coordination of the BuyDesign deployment, resulting in his nomination and recognition as a BuyDesign Impact Award winner. TruStile customers use BuyDesign to build quotes for highly customized door products. Through Ben's product management and product rules definition, BuyDesign has become a primary platform for customers to leverage TruStile's custom door manufacturing capabilities – one of the company's key competitive differentiators.
"We are honored to work with an outstanding set of individuals that continue to bring incredible value and innovation to not only the companies they serve, but the entire marketplace," said Rhonda DeMuth, chairman of the board, TDCI. "Congratulations to all the 2012 Impact Award winners. We commend each of our winners for demonstrating exceptional dedication in addressing the technology and business challenges of its customers."
About TDCI (http://www.tdci.com)
TDCI specializes in helping manufacturers and their distributors streamline the buying and production process of their customized products. TDCI's BuyDesign®, a web-based product configurator and distributed channel selling solution, leverages dynamic visualization of custom products to produce accurate quotes, orders, bill of materials, routing and other critical business deliverables of custom manufacturing.