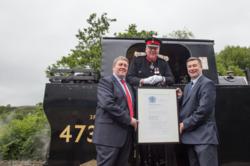 Managing Director David Price says: "It's fantastic to be up against some of the region's biggest employers, such as Senator and ACDC. Finger's crossed we'll come home with the silverware."
Burnley, Lancashire (PRWEB UK) 8 October 2012
Burnley-based online floristry, iflorist is in the running for two prestigious business awards.
Padiam-based iflorist has been shortlisted in the Innovation and Technology and Export categories in the Lancashire Telegraph Business Awards 2012.
The awards attracted a total of 108 nominations this year, the biggest in the event's history.
This latest recognition comes hot on the heels of the Queen's Award for Enterprise, which was awarded to iflorist for their outstanding achievement in International Trade this year.
Managing Director David Price says: "We're thrilled to be nominated for two awards – it's a real testament to the passion and commitment of our entire team.
"It's been a fantastic couple of years for iflorist. In the last year alone we've grown our domestic business by 60% and our international business in excess of 200% and can now deliver products to 110 countries worldwide via a network of over 10,000 partners.
"We have websites in 10 languages and 6 six currencies, with technology and local understanding in each country being the key to our success."
iflorist has also been shortlisted for three prestigious ecommerce awards, including Small e-Retailer of the Year, International e-Retailer of the Year and Best e-Retailer Delivery at the prestigious eCommerce Awards for Excellence 2012 in October.
David adds: "We've also won the Queen's Award and been shortlisted in the UK's top ecommerce awards. This really is phenomenal success in an extremely difficult climate.
"It's fantastic to be up against some of the region's biggest employers, such as Senator and ACDC. Finger's crossed we'll come home with the silverware."
Founded in 2006 by David Price and Steven Harris, Colonial Gifts Limited is the name behind familiar brands iflorist.co.uk and ihampers.co.uk, operating both floral and gifting websites in 20 countries and delivering flowers to homes and businesses in over 110 countries worldwide.
Research into worldwide local markets has allowed iflorist to understand the culture of each country, positioning itself in the same arena as any other local florist in that country thanks to an in-depth understanding of differing requirements in markets across the globe.
Clever use of technology ensures that iflorist is able to accept over 80 types of credit card via its global payment gateway which also understands the local geography in any given country.
Delivering flowers within 4 hours across the globe has given iflorist an enviable reputation for quality and service.
In the UK alone, iflorist has a network of over 1,700 skilled local florists, each of whom is able to connect to upwards of 20,000 overseas florists. The company employs 15 people and is based at Ribble Court, Padiham.
The Lancashire Telegraph Business Awards will take place at Ewood Park on the 16th November.