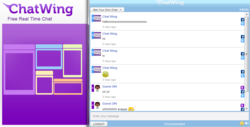 Dallas, TX (PRWEB) October 06, 2012
The Internet is truly a dynamic place. This fact is based on the countless activities that a person can do while browsing the Internet. One of the most common nowadays is TV streaming. Since there are lots of TV series and events to watch nowadays, people tend to stray from their television sets and just open websites that allow streaming. To make TV streaming more interesting, the Chatwing Development Team has readily introduced a free chat widget that can spark continuous discussions.
With Chatwing's free chat box, users can now engage in conversations about the TV series or events they like. Alternatively, they can use the Chatwing application to add more friends. The Chatwing app also utilizes the power of social media—now, visitors can log in with their Facebook or Twitter accounts. In the long run, these users can join Facebook groups related to their interests.
Chatwing's developers are currently mapping a grand strategic plan that would cover hundreds of TV streaming blogs and websites. The plan also involves the introduction of the Chatwing chat widget in forum sites, and social media site creators. To make this plan a reality, the Chatwing team is testing out the chat platform, hoping to create more developments that can enhance its stability and mobility.
The Chatwing team is always receptive about the feedbacks of users and bloggers across the Internet. In fact, some of Chatwing app's developments were conducted due to insistent public demand. To keep users well-informed, Chatwing team is currently maintaining a Facebook page filled with content about recent developments and updates. This makes the Chatwing chatbox a truly reliable application that can be used anytime.
About Chatwing.com
Chatwing.com specializes in the new field of website chat. Over years, the Chatwing team has introduced live chat widget for hundreds and thousands of blogs. The Chatwing application bridges people from many parts of the world, creating global synergy through the Internet. The shout box can be installed in just seconds, and it can be used for varying purposes such as leisure and Internet marketing. It also allows a user to customize the size, color, and name of the widget. Chatwing is 100% free for everyone.