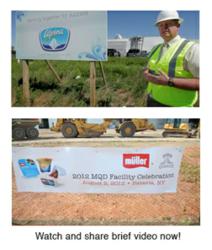 "This area [Buffalo Niagara] is very strong in dairy. They have a good milk supply and they are committed to growing the region on the milk supply side."
Buffalo, NY (PRWEB) October 10, 2012
View Shovel Ready Site Agri-Business Video (3:21)
The newest business attraction video being premiered by Buffalo Niagara Enterprise (BNE) focuses on why the Buffalo Niagara region is conducive to food processors– especially in the dairy industry. The video highlights why Alpina Foods and Muller Quaker Dairy chose to locate their yogurt manufacturing facilities in the Genesee Valley Agri-Business Park located in Batavia, NY.
In the video, which is part of the BNE's "A Million Reasons to Expand Your Business to Buffalo Niagara" marketing campaign, Steve Hyde, President and CEO of Genesee County Economic Development Corporation (GCEDC), discusses how the 211 acre park, dedicated to food processing, attracted three businesses within a year of becoming shovel ready.
Roger Parkhurst, Director of Operations for Alpina Foods USA, is a central figure in the video as he explains his company's reasons for selecting the Genesee Valley site for their first U.S. operation. The agri-business park's shovel ready status provided Alpina the ability to begin site construction quickly, and was a key factor according to Parkhurst. "It was forty days from the day we started the process to the day we started digging," stated Parkhurst.
Other agri-business related assets that affected Alpina's decision to locate in Batavia included a strong northeastern logistics infrastructure, an available and skilled workforce, and most importantly, the region's strength in the dairy industry. "This area is very strong in dairy," Parkhurst said. "They have a good milk supply and they are committed to growing the region on the milk supply side."
In announcing the release of the new video, Buffalo Niagara Enterprise President & CEO Thomas Kucharski praised Genesee County and the collaboration between public and private economic development entities in promoting the region's agri-business potential.
"We elected to showcase the Genesee County site in our video campaign because while our region is rich in agricultural assets, it was the vision shown by our colleagues at the GCEDC to invest in and develop the Agri-Business Park that ultimately enabled Alpina and Muller Quaker to invest and create jobs in Batavia," Kucharski said. "The collaboration between regional and state partners created a smooth and timely process to facilitate these investments. All these elements combine to make a very compelling story."
"We are delighted that Buffalo Niagara Enterprise is highlighting our Agri-Business Park as it is a unique regional asset that all of us in economic development can be proud of," said Steve Hyde, president and CEO of the Genesee County Economic Development Center. "The collaboration and support of Tom Kucharski and the BNE of our organization is humbling and we look forward to even more success in bringing other companies like Alpina and Muller Quaker to the region through this video."
Agri-business will continue to be a focal point for the BNE in the months ahead as Kucharski pointed to momentum in that industry over the last two years and the impact the cluster can have on the region's economy. Alpina Foods invested $15 million in their new facility where they anticipate hiring as many as 50 new employees. Muller Quaker Dairy LLC is investing $206 million in their project where they are expected to create 186 new jobs. The combined economic impact of these two projects on the region is a projected $95 million. The two projects are also great examples of how quality sites can assist in attracting foreign direct investment opportunities. Alpina Foods is headquartered in Columbia while the Muller Group is Germany's largest privately owned dairy business. In addition to the new video, the BNE is launching a new agri-business mini-site that can be accessed from their home page, http://www.buffaloniagara.org.
About Buffalo Niagara Enterprise - Buffalo Niagara Enterprise, a private, non-profit, marketing, business and economic development organization, is the point of contact for business attraction and investment in the eight counties of the Buffalo Niagara region. Working with local economic development groups, real estate & development professionals, governmental agencies, utilities and private sector business leaders, BNE assists businesses seeking to re-locate or expand in our region with access to the various incentives, financing, site selection and other services relevant to their project. For information on doing business in Buffalo Niagara, visit http://www.buffaloniagara.org.