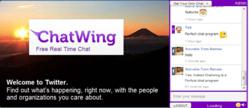 New York, NY (PRWEB) October 06, 2012
Tumblr event bloggers can now use the latest version of the Chatwing chat widget. The Chatwing application can be good for covering various events because of the global connectivity that it offers. A single Chatwing chatroom allows social media sharing, full admin conversation control, customization options, and flexibility in discussions. Moreover, the Chatwing app has three shoutbox styles that anyone can use.
With social media integration, visitors of the Chatwing chatbox can log in with their Facebook or Twitter accounts. Following this, they can now send invitations to each other. This allows users to delve into deeper communication, and they can also join Facebook and Twitter communities. Tumblr event bloggers can utilize this option to gather more information about upcoming or occurring events. Based on professional commentaries, an event blog prospers if it can explore the different points of an event—whether they are positive or negative.
Chatwing's free shout box also offers a wide range of customization options. Now, users can determine the widget color they like so that it will fit with the theme of their blogs. Additionally, users can create more chat boxes—a useful option if a user is maintaining two or more blogs. Unlimited moderator option is also available for team blogs. The admin conversation control allows the blogger to delete messages in real-time and also ban users. This will prevent the appearance of comments that may be harmful to the credibility of the blog.
Communication leverage is now an important factor in the field of blogging. The Chatwing chat box can achieve a reliable form of communication leverage through continuous usage. With such application, bloggers will be able to create their marks in the blogosphere and they will finally get the recognition they deserve.
About Chatwing.com
Chatwing.com specializes in the new field of website chat. Over years, the Chatwing team has introduced live chat widget for hundreds and thousands of blogs. The Chatwing application bridges people from many parts of the world, creating global synergy through the Internet. The shout box can be installed in just seconds, and it can be used for varying purposes such as leisure and Internet marketing. It also allows a user to customize the size, color, and name of the widget. Chatwing is 100% free for everyone.