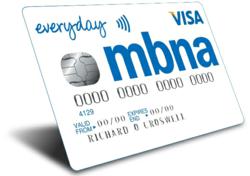 This is without doubt one of the most comprehensive all round credit cards we've ever brought to market
(PRWEB UK) 7 October 2012
Chester, UK: MBNA has launched a new credit card offering consumers an all-in-one solution to their everyday spending and debt consolidation needs.
MBNA's new "Everyday" credit card comes with a seven-month, zero per cent interest promotion for card purchases; a low annual percentage rate (APR) and a long balance transfer promotion with one of the lowest handling fees in the UK market.
The new Everyday credit card is available on MBNA's website at http://www.mbna.co.uk/credit-cards/mbna-everyday-credit-card/
"This is without doubt one of the most comprehensive all round credit cards we've ever brought to market," said Thomas Rebel, Product Marketing executive for MBNA. "It offers a convenient solution for everyone who wants to take advantage of a low APR and great promotional offers and low fees. Plus, what you see is what you get. We won't offer different rates to anyone who is accepted for this product."
The Everyday credit card from MBNA offers zero per cent interest for seven months on card purchases and comes with a low standard rate of 11.9 per cent on card purchases.
The Everyday credit card also offers zero per cent interest for 17 months on all balance transfers made within 60 days of opening an account. The offer comes with a low handling fee for balance transfers of two per cent.
"We're creating new products that differentiate MBNA in the credit card market and we're committed to giving more value back to consumers. The new Everyday credit card is a great example of that," Mr Rebel added. "The Everyday credit card offers very competitive rates and promotional offers right across the board because we want people to consider MBNA credit cards when they are deciding on a card to suit their needs."
The Everyday credit card from MBNA is contactless-enabled.
Representative example 11.9% p.a. variable on card purchases. This is equivalent to 11.9% APR representative variable based on a credit limit of £1200.