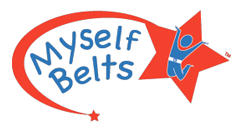 Saint Louis, MO (PRWEB) October 08, 2012
Myself Belts, a leader in the children's belt market, has added a new innovative element to its design--a slide-on buckle. Myself Belts offers a line of easy to fasten belts for children and adults. Its one-handed Velcro® brand fastener closure is perfect for young children and for those with hand dexterity difficulties.
Myself Belts' slide-on buckle gives the appearance of a traditional belt while maintaining an easy one-handed closure system. The two-dollar buckle can be moved from one toddler belt to another so a new buckle does not need to be purchased as the child grows. Since the buckle works independently of the belt, it can easily be removed if someone has a metal allergy. Consequently, Myself Belts have been found to be very helpful for children with nickel allergies as most belts have metal, which frequently touches a child's skin. Myself Belts' Adult Belts have always had a slide-on buckle; now, with the children's belts having an optional buckle, customers are excited to discover this nickel-free belt option.
Myself Belts are also ideal for school uniforms because they are easy to fasten and many schools require belts for their pre-schoolers. The new buckle marries the look of a regular belt with the simplicity of the Myself Belts' closure. Moreover, Myself Belts are a must-have pre-school belt because children can use it independently. Teachers love the ease Myself Belts provide because they no longer have to assist students with traditional complicated fasteners, particularly while helping their students with the bathroom. Consequently, bathroom accidents are prevented because children can quickly undo their belt and use the restroom with ease. Myself Belts are great potty training tools because the belt keeps kids' pants up and children can easily buckle or unbuckle the belt.
There has been an extremely positive reaction from customers regarding the buckle and "most online customers are adding buckles to their orders", says Myself Belts owner, Talia Goldfarb. Talia describes they had thought about adding a child buckle to their toddler belts for a while and decided this was a great time to see how customers would respond. Since the buckle has been so well received, Myself Belts is thinking about adding a variety of buckle options in the future.
Myself Belts sells their line of belts for toddlers, children and adults at http://www.myselfbelts.com, where they offer a variety of styles, colors, and sizes.