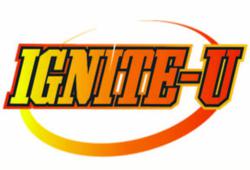 "We created Ignite-U is a series of annual events that combine motivational speakers and networking opportunities. The Main Event on October 6th is another way for that inspiration to occur."
Tacoma, WA (PRWEB) October 05, 2012
The Ignite-U Main Event promises to be more than just a trade show. Companies such as Rainer Connect, Rainier Dental, 3GEES Media, Adam's DJ Service and P2K (David & Alisa Muller) committed to sponsoring the event which expects well over 1,000 attendees who will hear five inspirational speakers.
Kieran and Sherri Murry wanted to create something where their fellow Pierce County residents could be inspired to make improvements, whether it is for their business, family or community. The Murry's: "We created Ignite-U is a series of annual events that combine motivational speakers and networking opportunities. The Main Event on October 6th is another way for that inspiration to occur."
This Ignite-U Main Event is the last of four events for 2012. In February the founders of Ignite-U, Kieran and Sherri Murry, kicked off 2012 with Ronnie Doss sharing how to "Enroll Others into Your Vision." The next event was the March event which featured Justin Esch, the co-founder of BaconSalt. September was the month when the big Ignite-U HOOPLA happened at the Tacoma Emerald Queen Casino and offered live music, shopping and a buffet spread.
The Ignite-U Main Event on October 6th speaker list includes:
Thach Nguyen is a realtor, developer and philanthropist. Thach Nguyen hopes to inspire and empower billions of people to reach for their dreams by sharing his life story and showing them that anything is possible.
Ronnie Doss is an international speaker, author and leadership trainer and his message rings very clear, "We can have commitments or we can have excuses. We choose!" His message has moved tens of thousands of people in major corporations, government agencies and mega churches around the globe into creating amazing results while stepping into their greatness.
Chris Pirillo is a personality in whom tech enthusiasts trust to answer questions and lead discussions. Chris records (on average) 1,000 videos per year, and had once cracked the "Top 100″ most subscribed throughout the whole of YouTube. His live stats are even more impressive: over 5 million unique live video viewers watched Chris do his "thing" in 2007 – a total of 2+ million LIVE viewer hours with an average viewing time of 25 minutes per visitor.
Michael L. Clouse An experienced success coach and a dynamic keynote speaker, Michael has appeared on business radio shows, as well as the occasional television talk show. His weekly newsletter, Nexera e-News, is read by tens of thousands of Network Marketing Professionals world wide.
Ona Brown is an expert in personal and professional transformation. Ona Brown, (daughter of world renowned motivational speaker and author Les Brown), has traveled nationally and internationally inspiring and motivating audiences from London, England to Stockholm, Sweden as well as the New Orleans Super Dome before 15,000 engaged and excited participants.
To make the trade show complete, Ignite-U sponsors will be available with tables for shopping, share samples and offer prizes.
The Ignite-U Main Event location: Greater Tacoma Convention & Trade Center, 1500 Broadway, Tacoma, WA 98402
When: Saturday, October 6, 2012, 9:00 AM to 6:00 PM (PDT)
Cost: The Ignite-U sponsors have been paid by the sponsors and are free to attendees.
Tickets to attend: http://igniteumainevent.eventbrite.com
The Murry's report that the "The Main Event on October 6th will house five phenomenal speakers powerful line-up is sure to bring the house down during this full day Saturday event." Attendance to the Main Event is expected to well over 1000 people. There will be approximately 100 vendor tables for those who would love to enjoy some pre-holiday shopping.
Linda Smith, the President and CEO of the Lakewood Chamber of Commerce: "IGNITE-U has provided a series of internationally acclaimed speakers presented right here in Pierce County! The programs continue to ramp up and I am delighted that the Lakewood Chamber has been invited to be a part of these fantastic offerings. Kieran & Sherri continue to please and astound me with the high caliber of guest speakers. I'm ready for...Off the Hook Fun!"
About Ignite-U:
Ignite-U is an event series that started in 2011 and features top notch speakers with topics ranging from motivation, inspiration, leadership and character development to technology and how-to's in business. "Each event has it's own special flair", says Murry, always wanting a fresh feel for attendees with each event they attend. For more information regarding this event series, check out the website at http://www.ignite-u.com or contact Sherri Murry at 253-312-9301.