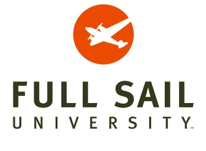 "We were delighted to work alongside the IGDA Foundation to bring this scholarship to life and we look forward to welcoming James to campus to begin his educational journey in our Game Development degree program."
Winter Park, FL (PRWEB) October 06, 2012
The International Game Developers Association Foundation is proud to announce that James Burns has been selected as the recipient of the first International Game Developers Association Foundation / Full Sail University Game Development Scholarship. Burns will be awarded the scholarship during a presentation scheduled to take place at GDC Online in Austin, Texas on Tuesday, October 9.
Through this scholarship program, Burns will be awarded a full tuition scholarship toward Full Sail University's campus-based Game Development Bachelor of Science Degree program, which he is scheduled to begin this November. In addition to the scholarship, he will also receive a 17" HP Mobile Workstation computer courtesy of CDW and HP.
"We at the IGDA Foundation are pleased and proud to award our first full degree scholarship in collaboration with Full Sail University to James Burns of Miami, Florida," said Tom Buscaglia, IGDA Foundation Chair. "We look forward to great things from James and know that the education he will receive at Full Sail University as a result of this scholarship will serve him well in his chosen career in the game industry."
The IGDA Foundation and Full Sail University announced the scholarship's nationwide application process last year, which sought out to identify an exceptional student who was passionate about and exhibited talent for software development in the gaming industry.
"Congratulations to James on being selected as the recipient of the International Game Developers Association Foundation / Full Sail University Game Development Scholarship," said Rob Catto, Director of Game Studies for Full Sail University. "We were delighted to work alongside the IGDA Foundation to bring this scholarship to life and we look forward to welcoming James to campus to begin his educational journey in our Game Development degree program."
About IGDA Foundation:
The IGDA Foundation supports the mission of the International Game Developers Association, "To advance the careers and enhance the lives of game developers by connecting members with their peers, promoting professional development, and advocating on issues that affect the developer community," through Educational, Scientific and Charitable works.
foundation.igda.org
http://www.facebook.com/groups/167563709923566/
About Full Sail University:
Full Sail University is an award-winning educational leader for those pursuing careers in the entertainment and media industry. Founded in 1979, Full Sail has been recognized as one of the Top Five Game Degree Programs by Electronic Gaming Monthly, one of the Best Music Programs by Rolling Stone Magazine, and one of the Best Film Programs by UNleashed Magazine. In 2011, Full Sail received the "21st Century Best Practices in Distance Learning Award" from the United States Distance Learning Association, was named the "School/College of the Year" by the Florida Association of Postsecondary Schools and Colleges, and was recognized as one of the Top 100 Social Media Colleges by Studentadvisor.com.
Full Sail offers on-campus and online Master's, Bachelor's, and Associate's degree programs in areas related to animation, art, business, education, graphic design, film, marketing, web development, music, recording arts, sports, and video games. Full Sail graduate credits include work on OSCAR®, Emmy®, GRAMMY®, ADDY®, MTV Video Music Award, and Spike Video Game Award nominated and winning projects.
http://www.fullsail.edu
http://www.twitter.com/fullsail
http://www.facebook.com/fullsailuniversity
# # #