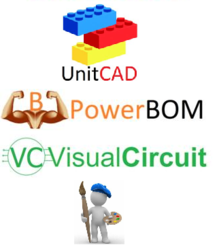 Risersoft is focused on providing easy and powerful software solutions to customers.
New Delhi, India (PRWEB) October 08, 2012
After the successful launch of 2D CAD Automation product UnitCAD (http://www.unitcad.com), Risersoft has released bill of material management software PowerBOM (http://www.powerbom.com) and electrical schematic report automation software VisualCircuit (http://www.visualcircuit.com). Risersoft has also launched software development services, both for customization of existing products and new development.
PowerBOM is the easiest way to integrate and leverage your drawing bill of materials. PowerBOM integrates per drawing bill of material with Inventory Item codes enabling easy consolidation and segregation of materials required for various uses.
VisualCircuit is the easiest way to prepare control schematic reports. Visual Circuit enables GUI based entry of various devices and their wire buses and then generates various documents such as Terminal Block Diagram, Wiring Diagram, and Material Lists etc.
We believe that software development is a combination of domain knowledge and programming. We offer services both for extension/customization of our existing products and development of new products/features.
About Risersoft:
Risersoft, found in 2011, is based in New Delhi, India and has extensive experience in Engineering and Manufacturing Domains.
Our mission is to empower, enlighten and partner.