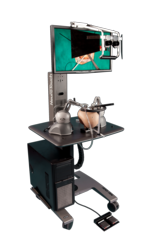 New York, NY (PRWEB) October 05, 2012
The Department of Neurosurgery at Mount Sinai School of Medicine is the first in the United States to use the NeuroTouch virtual-reality simulator designed to improve outcomes and reduce complications in patients undergoing brain surgery. The device uses 3D software coupled with handheld surgical controls providing tactile feedback to closely mimic an actual brain surgery. This allows neurosurgeons in training to practice and hone their skills, and neurosurgery faculty to continually assess their skills and potentially to rehearse their procedures in advance.
The brain surgery simulator was designed by the National Research Council of Canada and is an interactive virtual-reality technology that provides visual, touch, and sound feedback to enhance the training experience so that surgeon feels like they are in an actual operating environment. Progress is monitored via a computer-generated "score," which can evaluate measures like the amount of tumor removed, bleeding, and damage to healthy tissue.
Currently, there is no way for surgeons to rehearse brain surgery using patient-specific data in advance. By using the simulator, the Department of Neurosurgery will ultimately be able to take MRIs or other images from patients, enter data about comorbidities into the simulator, and create a 3D rendering of the patient's brain to practice the procedure using the patient's virtual anatomy, helping to reduce complications and improve surgery efficacy.
"We believe the new brain surgery simulator could potentially revolutionize the way we train and evaluate our surgeons," said Joshua B. Bederson, MD, Professor and Chair of Neurosurgery at Mount Sinai, and leader of the project. "By giving residents and faculty simulation training as well as the opportunity to rehearse surgeries in the future, we hope to improve the safety and speed of surgery and to reduce the duration of training. This could translate into better outcomes for our patients."
The simulator will be used initially as an educational tool for neurosurgery residents, training them on five different technical scenarios that range in difficulty: the placement of a ventricular drain to relieve pressure on the brain due to excess cerebrospinal fluid; endoscopic third ventriculostomy, a procedure that improves cerebrospinal fluid circulation; transnasal endoscopy, in which surgeons remove tumors through the nasal cavity; and transcranial removal of benign and malignant brain tumors.
The residents will practice these scenarios regularly over six months, both before they enter the operating room and throughout the rest of their seven years as residents. The department has established several outcome measures through which to assess them, including grading scales and interactive observational evaluations.
"This training will help our residents build a strong skill set and may help us further cultivate our outstanding neurosurgeons," Dr. Bederson said.
Mount Sinai will also review how well the simulator works as an assessment tool itself. "We want to learn how accurately the simulator measures various attributes of a surgeon," said Dr. Bederson. "We will be looking at confidence levels relative to experience and skill. For example, if a surgeon is highly capable but less confident, they may be too tentative in the OR and decrease their ability to remove all of a tumor, or take too long to do it."
Neurosurgery faculty will also be encouraged to use the simulator to self-evaluate surgical strengths and weaknesses. Speed, accuracy, delicacy, efficacy, completeness of resection, tissue damage and blood loss are all recorded. The department will also assess the simulator as a tool to help evaluate students who may be interested in neurosurgery training.
"The acquisition of this simulator reflects my commitment to implement the most innovative tools" said Dr. Bederson. "The new program will support our missions of training the next generation of superb neurosurgeons, research in developing new surgical methods, and the delivery of the nation's most advanced neurosurgical care."
About The Mount Sinai Medical Center
The Mount Sinai Medical Center encompasses both The Mount Sinai Hospital and Mount Sinai School of Medicine. Established in 1968, Mount Sinai School of Medicine is one of the leading medical schools in the United States. The Medical School is noted for innovation in education, biomedical research, clinical care delivery, and local and global community service. It has more than 3,400 faculty in 32 departments and 14 research institutes, and ranks among the top 20 medical schools both in National Institutes of Health (NIH) funding and by U.S. News & World Report.
The Mount Sinai Hospital, founded in 1852, is a 1,171-bed tertiary- and quaternary-care teaching facility and one of the nation's oldest, largest and most-respected voluntary hospitals. In 2012, U.S. News & World Report ranked The Mount Sinai Hospital 14th on its elite Honor Roll of the nation's top hospitals based on reputation, safety, and other patient-care factors. Mount Sinai is one of 12 integrated academic medical centers whose medical school ranks among the top 20 in NIH funding and by U.S. News & World Report and whose hospital is on the U.S. News & World Report Honor Roll. Nearly 60,000 people were treated at Mount Sinai as inpatients last year, and approximately 560,000 outpatient visits took place.
For more information, visit http://www.mountsinai.org/.
Find Mount Sinai on:
Facebook: http://www.facebook.com/mountsinainyc
Twitter @mountsinainyc
YouTube: http://www.youtube.com/mountsinainy
# # #