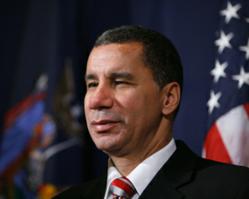 Riverdale, NY (PRWEB) October 05, 2012
On Oct. 16, 2012, former New York State Gov. David A. Paterson will visit Manhattan College's campus as part of a lunchtime talk with the College community. As governor during the financial crisis in 2008, Paterson made sweeping reforms in the state of New York and will offer insight to students on the current state of student loans.
One of Paterson's biggest reforms was to change the way health care is delivered in New York state to rationalize the Medicaid reimbursement system and provide increased investment in primary and preventative care.
His career as a political pioneer started in 1985 when he was elected to represent Harlem in the New York State Senate, and became the youngest senator in the state at the time. In 2003, he was elevated to Minority Leader of the Senate as the first non-white legislative leader in New York. In addition, in 2004 he was the first visually impaired person to address the Democratic National Convention, and in 2007 he made political history when he was elected New York's first African-American Lieutenant Governor.
Paterson, who is legally blind, is nationally recognized as a leading advocate for the visually and physically impaired. He is a member of the American Foundation for the Blind and he serves on the Board of the Achilles Track Club.
Since June 2012, Paterson has served on the Metropolitan Transportation Authority (MTA) Board after being nominated to the position by Governor Andrew M. Cuomo. When he was governor, he negotiated an MTA bailout plan allowing commuters to avoid painful service reductions.
The talk is sponsored by the School of Business and will begin at 12 p.m. in the Alumni Room of the Mary Alice and Tom O'Malley Library. All are welcome to attend.
For more information, please contact Janet Rovenpor by phone at (718) 862-7437 or email janet.rovenpor(at)manhattan(dot)edu.
###
About Manhattan College:
Manhattan College is located at West 242nd Street near Broadway in the Riverdale section of the Bronx, one mile from the Westchester County line and accessible by MTA subway line No. 1. For directions to the campus, visit http://www.manhattan.edu.
Founded in 1853, Manhattan College is an independent, Lasallian Catholic, coeducational institution of higher learning offering more than 40 major programs of undergraduate study in the areas of arts, business, education and health, engineering and science, along with continuing and professional studies, and a graduate division. For more information about Manhattan College, visit http://www.manhattan.edu.
Press Contact:
Liz Connolly Bauman
Assistant Director of Communications
email: public_relations(at)manhattan(dot)edu