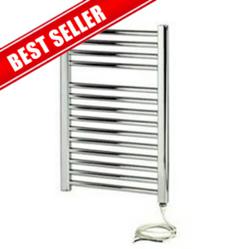 (PRWEB UK) 8 October 2012
Many people fear winter due to its capacity to make weak people sick. The fact is it is not winters but the habits of people that make them sick. When the temperatures are low, people should avoid certain common mistakes. For instance, using a cold towel post a warm shower can result in infection. The precautionary step is to use warm towels post hot showers. To ensure ready warm towels this winter season, CNM Online introduces wide range of heated towel rails in its product line. Heated Towel Rails are the best functional products for the upcoming chilly winters. Available in diverse sizes, design, and prices, heated towel rails fit easily into the bathrooms. Earlier bathrooms were sad and were used to execute basic things. However, time has changed the looks of bathrooms with their uses. Bathrooms are now seen as recreation rooms where one forgets all the stress while taking a warm shower. What if the person is greeted with a cold towel post this rejuvenating experience? The new models of heated towel rails have erased the memory of earlier repulsive ones.
Heated Towel Rails offer dry towels within minutes. They offer the warm fuzzy feeling by enveloping people with dry towels post a hot shower. Besides winters, heated towel rails double up as delicate laundry dryer. Delicate laundry like lingerie, napkins, etc. cannot be relied upon regular dryers. Heated towel rails offer warm lingerie, which is not possible during rainy season. Heated Towel Rails are seen more as an investment than an expense. They are not only affordable while buying but the resulting electricity expenses are not greatly visible on the bills. With minimum expenditure, families can ensure warmth to the younger kids who are sensitive to winter season. Heated Towel Rails come with timers installed that control the temperature according to preference. This way they need not be constantly running and adding to the bills. With numerous designs, heated towel rails fit the interiors of the bathrooms, making them look beautiful, be it radiator style, contemporary fancy style, or simple artistic style. Heated Towel Rails even keep the bathroom warm, depending upon the size. They double up as heaters for tiny bathrooms, eliminating the need to install an exclusive one.
Sharing the excitement of receiving loads of inquiries for the new introduction, Senior Spokesperson at CNM Online says, "Heated Towel Rails have made the upcoming winter season inviting. We have introduced a wide range of models from leading brands that suit diverse needs of people. Earlier heated towel rails were seen as a luxury appliance. However, with rapidly dipping temperature in winter, it has become a necessary appliance. Heated towel rails are not only functional appliance but also beauty products. With their stylish appearance, they make a visit to the bathroom an experience in every sense."
For more information about heated towel rails, visit http://www.prestigewashrooms.co.uk/Paper-Towel-Dispensers/
About CNM Online
CNM Online is a family run business founded in 2004. The site has more than 200,000 customers and believes in offering solutions rather than products. The largest supplier of heating products for home, CNM Online offers a range of efficient and affordable solutions.