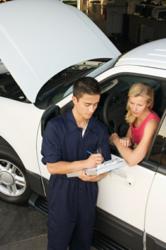 The bottom line is, when you pay nothing to send email, you are often getting what you pay for.
Houston, Texas (PRWEB) October 08, 2012
uNotifi, a leading automotive service marketing firm, says that too many vehicle service marketing offers are getting lost in the e-mail due to poor deliverability issues that can be corrected by ensuring a dealer's email service is managed by a professional Email Service Provider (ESP).
"Dealers that use email marketing services from companies that don't manage the process by using a professional ESP often find their marketing messages are getting lost in spam folders or are turned away by ISPs before they even reach someone's computer," said Fred van der Neut, uNotifi CEO. "The only way to avoid this is to work with a provider that manages the process completely. The bottom line is, when you pay nothing to send email, you are often getting what you pay for."
Last year, email intelligence firm Return Path reported that only 81 percent of emails sent reach the intended consumer's mailbox. Return Path's study found that 7 percent of emails were classified as spam and 12 percent were simply missing – meaning that they did not meet the ISP's deliverability standards.
Van der Neut said that uNotifi's email marketing system complies fully with email deliverability standards and best practices in three ways: 1) establishing a good email sender reputation with all major ISPs, 2) establishing the appropriate authentications to ensure messages have the best possible chance of delivery, and 3) incorporating deliverability features into dealer emails like "spam scoring" so deliverability issues are resolved before emails are sent.
"Deliverability is key to effective email marketing and mobile couponing," said van der Neut. "Automotive service centers need a turnkey approach to managing email and mobile marketing that delivers a good ROI at a very affordable cost."
uNotifi is a national provider of customer-centric marketing programs for automotive dealers, service centers and aftermarket retail operations. uNotifi provides an integrated technology retention and loyalty solution that effectively manages a dealer's current customer base and communications to help increase customer retention, increase profits, and customer satisfaction.
For more information, email fredv(at)unotifi(dot)com or call 713-243-8783.