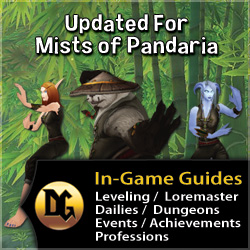 (PRWEB) October 05, 2012
With the release of Mists of Pandaria, many World of Warcraft players have been looking for new and effective ways to earn gold. Dugi's Ultimate WoW Guide has sought to fill this need with their new update for their Dailies guide.
This strategy guide promises to help players increase the speed at which they complete dailies by 50% or even twice as fast. It is not uncommon for players to complete all 25 of their daily quests in under an hour and a half whereas the same process took nearly 3 hours without Dugi's Guide.
How does Dugi's Guide help players complete daily quests so quickly? This guide is actually a questing software that is installed on players' computers and then guides them in-game. It contains a GPS-like arrow that points players in the direction of the next objective.
The secret of Dugi's Ultimate WoW guide is that it not only shows players where to go to complete quests, but also where to go to pick them up and more importantly, when to pick up new quests and what order to complete them in.
Players can turn the daily quest guide into gold-making mode it Dugi's Ultimate WoW Guide will automatically calculate the fastest way to complete 25 daily quests to maximize gold rewards. Alternatively, players can choose to work on a specific faction's reputation with Dugi's Guide or just go for the gold. This flexibility makes the Ultimate WoW guide a very popular gold guide.
As a bonus, this new Dugi's Guide update also contains guides to all the special events like Hallow's End. This helps players complete the achievements associated with each event which are normally very time consuming. It is not surprising that players from around the world are turning to Dugi's new Ultimate WoW Guide to earn gold and achievements.