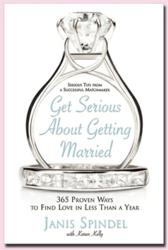 I realized this could be the start of an amazing launch of multiple niche matchmaking businesses.
(PRWEB) October 09, 2012
Janis Spindel launches a new matchmaking division to serve the needs of successful marriage minded first and second generations of Asian-Americans beginning November 2012.
"I was approached by a very beautiful and professional young Asian matchmaker in her early 30's to use my business model, my Internet muscle and expertise to launch a new matchmaking division to serve young Asian-Americans who are pressured by their parents to get married and have children," says Spindel. "Another important point she made was that most Asians though they were raised in the States, have deep rooted traditional values where dating a different nationality is okay, but when it comes to their spouse, most Asians want to marry within the Asian community."
"During our first meeting, it was pointed out to me that parents of young Asian-Americans are willing to pay matchmakers to get their children married. As long as the parents are working and have the available funds, they feel this is an acceptable route to take."
Unlike many of the niche online dating sites that exist today, these young Asian-Americans want to meet a successful marriage minded partner in person. Many have high powered careers such as medicine, law and finance and are looking for a similar life partner. They are armed with several diplomas, professional licenses, tax returns and documents they will present so Spindel can do her due diligence and make appropriate matches.
"The business model we have created for this new division differs only slightly from my current model established in 1993 that recorded 995 marriages to date, with another 2 to be announced real soon. I was amazed to learn that these Asian-Americans accept and expect to be very open with their success and want and agree to be matched based on these data points. Of course, my job is to ensure that chemistry is one of the factors involved."
Spindel's new matchmaking division will focus on the men as paying Clients, similar to her current model. All women wanting to be matched must go through the same double screening process with a one-time fee of $275. Men will have 2 levels of matchmaking services to choose from, beginning at $5,000.
Spindel already has the technology and proprietary databases designed, and will just create a new skin. Spindel claims that by making it difficult and costly for women to get approved for introductions, it vets out gold diggers and red flags. "In the case of my new Asian-American matchmaking service, potential men Clients must also pass my double screening process and pay the same one-time $275 before I agree to take them on as a Client. This increases my ability to be successful and only work with marriage minded men," Spindel claims.
"I realized this could be the start of an amazing launch of multiple niche matchmaking businesses. For instance, other cultures around the world force their children to marry within a specific religion or race. That opens the doors to other niche markets. Once the Asian-American matchmaking division is launched, as the expression goes, I will need a bigger boat and additional Cupids."
Spindel plans to launch her new Asian-American matchmaking division in New York this November with a launch party where she is headquartered, and then immediately open offices on the west coast.