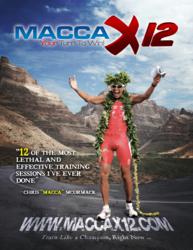 Twelve of my most lethal and EFFECTIVE triathlon training sessions of ALL TIME!
Kona, Hawaii (PRWEB) October 09, 2012
MaccaX12 is a lifetime membership site containing many hours of video training for any experience or skill level. Inside are twelve of his favorite and most effective training sessions which he has collected, developed and refined over his entire career.
"This is 20 year's worth of training secrets and Macca uses them to this day..."
It Includes:
● Personal Instruction By Chris "Macca" McCormack in beautiful HD-Video.
● 4 x Swimming Modules
● 4 x Biking Modules
● 4 x Running Modules
● 3 Bonus Sessions – Hill Training, Sportoga and Open Water Swimming
The training videos were produced all over the world in-between Macca's insane schedule of travel, interviews, training camps and of course, winning triathlons. They're designed to shave seconds off best times, increase mental and physical strength, break through plateaus, increase confidence and make training fun again. This is 20 year's worth of training secrets and Macca uses them to this day...
Throughout his entire career people have hounded him to reveal his training sets and now he finally has. Being a legendary athlete, he could easily charge thousands of dollars for a product like this, but he wants to share the secrets behind his incredible triathlon career with as many people as possible. His dream is to leave a positive legacy behind in triathlon and give back to the sport that has been so good to him.