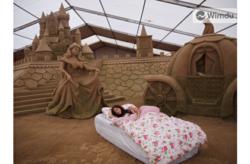 Arne Bleckwenn, CEO and founder of Wimdu, comments, "It's great to see hosts becoming more and more creative about the accommodation they offer. This is truly what Wimdu is all about – offering guests a unique travel experience like no other!"
(PRWEB UK) 6 October 2012
This year's sand sculpture festival on the German island of Rügen is celebrating a fairytale theme for the 200th anniversary of the Brothers Grimm's stories. However, this year's festival will be a little different as visitors will be able to experience something normally reserved for characters in a fairytale.
Thanks to private accommodation website http://www.wimdu.co.uk, visitors will now have the exclusive chance to stay overnight at the festival and sleep like Snow White amongst the sculptures.
Tom van den Dungen, Wimdu host and the organiser of the Rügen sand festival, is allowing visitors to sleep overnight at the festival after the doors close to the public at 6pm. For just £61 per night, one guest can stay in the main bed – and 7 smaller beds have been provided for the 7 dwarves. Tom commented, "I just wanted to offer visitors something special – now they can really become a part of the fairytale experience we've created here."
An enormous 8000 tons of sand were used to create the incredible sand sculptures at the 5000m² festival grounds – making the festival the biggest indoor collection of sand sculptures in the world. Amongst the fairytale sculptures are Cinderella, Rapunzel and Sleeping Beauty.
Arne Bleckwenn, CEO and founder of Wimdu, comments, "It's great to see hosts becoming more and more creative about the accommodation they offer. This is truly what Wimdu is all about – offering guests a unique travel experience like no other!"
The bed is available to book at http://www.wimdu.co.uk/offers/3K2RNJAT until the end of the festival on November 4th.
About Wimdu
Wimdu is a social accommodation community that brings together travellers and hosts from around the world to enable consumers worldwide to travel like a local.
Wimdu enables hosts to generate additional income on their spare rooms, while guests can search for a room and a rate that suits them. The site lists a range of over 50,000 properties internationally across over 100 countries with everything from boltholes in Berlin to English castles.
Wimdu was founded in 2011 by serial entrepreneurs Hinrich Dreiling and Arne Bleckwenn who wanted to harness social media to transform the way consumers are travelling worldwide. Wimdu's Managing Director in the UK, Karim Hardane, manages a team of over 30 and lists over 3,000 properties nationwide.