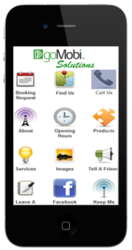 GoMobi Website Builder and Mobile Website Hosting and Development
Washington, DC (PRWEB) October 10, 2012
GoMobi Solutions is proud to launch it's new mobile website service GoMobi Solutions. For as low as $5.95/month clients are able to create a mobile version of their website that works on any mobile device. Unlike regular websites, mobile websites are optimized so they display perfectly on mobile devices. This makes it easier on mobile device users to visit a website and obtain important information without having to change the site size or scroll through small text. Most mobile websites focus on key website elements which include contact information, location, products, image galleries, and even forms to communicate with clients.
Spokesperson for GoMobi Solutions, Tamar Mitchell stated, "We're excited about our new line of mobile website tools. It allows us to offer our clients the best in Mobile Website Development and Hosting." GoMobi Solutions is a pioneer in mobile website development and their turnkey solution makes it easy for small business to deploy a mobile friendly website.
Mobile-friendly features make it easy for customers to find what they're looking for while increasing sales conversion rates. GoMobi Solutions works on all phones, including smartphones and other connected devices like tablets.
GoMobi is a privately owned Virginia based LLC that specializes in mobile website development and mobile website hosting. GoMobi Solutions was established in 2012 through a partnership of three web hosting companies that merged their mobile website technologies to create the perfect turnkey solution for small-mid size business owners.