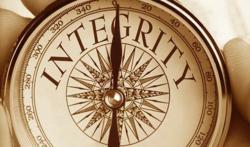 If You See It You Own It
Anchorage, Alaska (PRWEB) October 07, 2012
Dr. Lynne Curry, Ph.D., SPHR (CEO of The Growth Company) takes great strides to promote honesty in the workplace. Many of her clients have witnessed deceitful acts by coworkers, including upper management. This creates an uneasy predicament with the witness(es)—so much that employees either quit or turn a blind eye, trying to avoid confrontations. Today Dr. Curry reveals her straightforward response on how to handle these uncomfortable situations.
Recently, Dr. Curry dealt with a client who was retired military. This gentleman expected a certain level of ethics from those he associated with, but he did not find it among the other managers in his company.
This gentleman liked the work itself and had been well rewarded in the years he'd been there. Her client (remaining anonymous for confidentiality purposes) stated, "Despite all of that, it grates on me to listen to my boss who talks a good story and uses the word integrity yet slants the truth when ever it's to his advantage, regardless of who he hurts. It's also an open secret that several managers cheat on their expense accounts and claim to be at meetings when they're golfing."
As a result, he started looking for a new employer. Dr. Curry explained that this client wanted to tell his boss why he wanted to leave and that he didn't want to raise a stink, but he needed to work around people who tell the truth.
Understanding these frustrations, Dr. Curry then said to him, "If you see it you own it. You need to say it straight up."
Dr. Curry goes on to point out that manager positions give them a platform from which to fix things. Instead of leaving for a magic kingdom in which all managers tell the truth, why not inspire renewed honesty in the current company? If a person doesn't tell their boss why they're leaving until they depart, without first trying to fix what's happening, they leave behind employees that may feel stuck, who didn't dare voice their worries for fear of being fired.
Further, according to Dr. Curry, individuals guided by ethics, need to take a leadership role in fixing the incremental corruption seen in our workplaces and government. If they don't raise a stink they let those who rationalize continue unchecked. Managers who indulge in white collar crime need to realize lower-ranked employees see through bogus statements made by integrity-mouthers.
Finally, Dr. Curry states that unless we individually act according to "if I see it, I own it," we'll get the work worlds we deserve. Each individual knows what may result from telling their boss how much it matters to them that he and others shave the truth. Perhaps that particular boss doesn't see the other manager's behavior or realize how obvious his own double standards are. Those who give lip service to ethics often need a jolt to bring their behavior up to the level of their ethical mouths.
© Lynne Curry, October 2012, http://www.thegrowthcompany.com