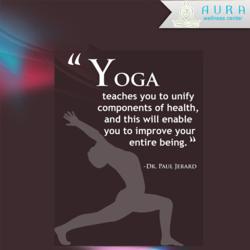 "The result of applying Yogic principles to life is a major leap forward in self-improvement."
Attleboro, MA (PRWEB) October 09, 2012
Aura Wellness Center has been a global provider of continuing education and foundational training to Yoga instructors for over a decade.
Teachers and students have many options to consider when they are deciding to become a Yoga instructor. Experienced teachers may not be in a position to close their studios for three or four weeks in order to pursue their continuing education. The pursuit of specialist teacher training, and meeting recertification requirements, are two of the most common reasons why an experienced teacher would take additional courses.
Distance learning is a viable solution for Yoga students who have already been training, but are now considering the option of teaching. Traditional teacher certification courses require interns to take time off from the obligations of family and work and may also require additional travel. However, people with jobs and families often prefer the option of home study.
For this reason, Aura Wellness Center created a line of Yoga teacher training courses and an online teacher community, in addition to its traditional onsite training programs. This allows anyone who wants to pursue teaching to enter into a training program, regardless of one's home and work obligations.
The latest foundational course, among Aura Wellness Center's line of distance learning programs, is their 300-hour platinum course, which covers everything a Yoga instructor needs to safely run classes. Among the subjects within the platinum course are postures, anatomy, assisting students in postures, proper alignment, Yogic breathing, meditation, relaxation techniques, and much more.
Teachers in training have access to Aura Wellness Center's online teacher community, which contains over nine hours of video clips related to teacher issues, forums with seven years of input from Yoga instructors around the world, podcasts, and blogs with information for independent research. Also included, within the 300-hour course, are marketing and business materials to help instructors find teaching opportunities.
To learn more about Aura Wellness Center's online courses, visit: http://www.aurawellnesscenter.com/store/
Aura Wellness Center
Founded in 1999, Aura Wellness Center was started by Dr. Paul Jerard, Marie Jerard, and Paul Jerard III. Their vision was to create user-friendly and affordable solutions for the education and continuing education of Yoga teachers. Today, they educate and network with Yoga teachers worldwide.
Media Contact:
Paul Jerard III
508-222-0092
http://www.aurawellnesscenter.com