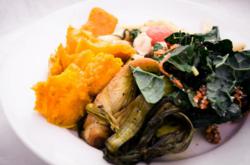 I heard 'This food is fantastic!' more often than 'The bride looks so lovely!' which, as the bride, I still took as the highest compliment!
College Park, MD (PRWEB) October 05, 2012
La Prima Catering's first grown to order, farm to table wedding reception took place Saturday, September 27th -- from the fields to the kitchen, and finally, to the table – with outstanding results.
The months of planning, growing, harvesting, cooking and preparing by La Prima staff and their partners at Open Book Farm of Myersville, MD led to a truly special and memorable evening. By keeping everything local and sustainable, the bride and groom and their 100+ guests celebrated in style with very low environmental impact. In fact, at the end of the event all food waste was composted, leaving less than one bag of trash!
The wedding took place at Engedi Estate, nestled in a valley just east of Maryland's Catoctin Mountains–just 20 miles from Open Book Farm, where most of the produce was grown. It was a beautiful backdrop for this whimsical farm-to-table event and the staff at Engedi Estate supported La Prima's efforts to host a truly "green" wedding.
"This event was extraordinary and it was our privilege to be part of it," said Engedi General Manager Debbie Newcomer. "Aside from the unique, beautiful and delicious grown to order menu, La Prima was the best and most professional caterer that has ever worked here; the level of service and attention to detail was amazing. They will be among our top recommended caterers from now on."
Bride and groom Jessie Greger and Jeremy Solt of Takoma Park, MD were equally thrilled with their day.
"When La Prima agreed to help us translate our personal commitment to buying locally and sustainable into our wedding menu, we thought 'Great, even if we can just do a little to incorporate that theme, let's try it,' recalled the bride. "We never imagined how well La Prima's team would work with local farms and vendors to make the event such a success. I heard 'This food is fantastic!' more often than 'The bride looks so lovely!' which, as the bride, I still took as the highest compliment!"
At the bar, La Prima served locally sourced Chilled Apple Cider and Minted Cucumber Water. Passed hors d'oeuvres included Pear and Goat Cheese Pastry Bites, Tomato and Basil Bruschetta on Rosemary Focaccia Bread, and Shots of Broccoli and Cheddar Soup – all made with locally grown ingredients.
The main course featured a casual buffet of Fresh Lemongrass Chicken (made with chicken pasture-raised at Open Book Farm); Roasted Pumpkin with Sage and Browned Butter; Seared Baby Bok Choy; Braised Greens and Penne Pasta with Cannellini Beans; Roasted Eggplant; and Kale Salad with Feta Cheese, Dried Cranberries, and Sugared Walnuts.
Desserts included Fresh Raspberries; Olive Oil Cake with Orange Zest and Cardamon; Preserved Peaches; Caramelized Apples; Husked Cherries; and locally sourced vanilla ice cream.
To see stunning photos of this signature event, visit La Prima Catering's Blog. To learn more about the Seeds to Celebrations initiative, contact Karen Bate at pr (at) laprimacatering (dot) com.
La Prima Catering kitchens operate in five locations throughout the Washington, Baltimore and Philadelphia metro regions, providing unsurpassed service that is fast and flexible. The company's Catering by Seasons division offers a delicious, contemporary menu full of imagination and style for memorable special events such as weddings, corporate galas, religious celebrations and other important occasions. Its "Seeds to Celebrations" program provides fresh-from-the-garden, elegant and sustainable events that support local farms and protect the environment. The company's "H Generation" division provides a nutritious school lunch program for area schools.