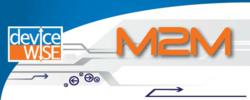 Integrating the deviceWISE software, hosting services and easy back-office integration with the Option CloudGate product, both companies' customers will enjoy faster time to market as well as enhanced simplicity in deploying their new M2M applications
Boca Raton, FL (PRWEB) October 09, 2012
ILS Technology, a leading enabler of the Internet of things, and Option, a global leader in wireless connectivity, security and experience have agreed to develop and co-market the Option CloudGate gateway loaded with the ILS Technology deviceWISE M2M Application Platform via Option's CloudGate provisioning system in order to simplify the adoption of machine-to-machine (M2M) technology for common customers.
"We're pleased to be working with Option, a recognized international leader and pioneer in wireless and M2M, on a joint solution," said Fred Yentz, President and CEO of ILS Technology. "By integrating the ILS Technology deviceWISE software, hosting services and easy back-office integration with the Option CloudGate product, both companies' customers will enjoy faster time to market as well as enhanced simplicity in deploying their new M2M applications. With the CloudGate provisioning solution Option has given us a quick, efficient channel to deploy our solution onto their product recognizing the unique value that we add for their customers."
"With CloudGate Option has created a solution that allows M2M software vendors to quickly and simply deploy their M2M solutions for their customers." said Patrick Hofkens, Chief Development Officer at Option. "ILS Technology's support for the CloudGate product validates this strategy. By working with ILS we go one step further by supporting an even more robust set of services, while minimizing the amount of programming expertise and time required. Plus, our large enterprise customers are sure to benefit from the seamless integration of their device data directly into their enterprise IT systems."
About Option
Option is a global leader in wireless connectivity, security and experience. Option enhances the performance, functionality and usability of wireless communications through a portfolio of 3G, 4G HSPA/LTE and WLAN connectivity solutions. The company works with mobile operators, OEMs, retailers and enterprise customers to create compelling products that enable new connected and secure services. Option is headquartered in Belgium, with further R&D facilities in Germany and an ISO 9001 production engineering and logistics facility in Ireland. Option maintains offices in Europe, the US, Greater China, Japan and Australia. More at http://www.option.com
About ILS Technology
ILS Technology provides the world's leading ready-to-use, off-the-shelf cloud platform to connect enterprise IT systems to the devices and machines on which businesses depend. ILS Technology solutions are easy to deploy to any device without the need for months of complex programming or development. ILS Technology offers unparalleled security to protect company and customer data and ensure regulatory compliance. ILS Technology is a Park-Ohio company.
Visit http://www.ilstechnology.com or http://www.devicewise.com for more information.