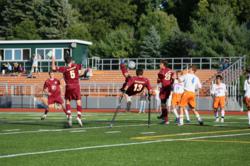 SideStix revolutionized the forearm crutch... They're the only crutches I've come across that can keep up with me.
Sechelt, BC (PRWEB) October 08, 2012
A YouTube video showing a high school soccer player scoring a goal has generated more than 1.4 million views since September 20th.
That's because 18-year-old Nico Calabria was born with only one leg–and his foot was almost six feet in the air when it delivered the blow that sent the ball soaring into the net.
Calabria accomplished this amazing feat thanks in part to the SideStix forearm crutches he uses. These lightweight, shock-absorbent carbon fiber crutches allow Calabria to keep up with his two-legged team mates on the field.
"SideStix changed my life," Calabria says. "They brought me into a new realm of mobility and have given me the chance to choose what I do in life based on desire, rather than whether my crutches can keep up with me or not."
Calabria's relationship with SideStix dates back to 2009, when Sarah Doherty, the owner of the company and an amputee herself, was preparing to climb to the top of Mt. Kilimanjaro in Africa using an early SideStix prototype forearm crutch. When she discovered that 13-year-old Calabria had made the same climb months before, she knew she had to meet him.
"He ended up becoming one of our first field testers," Doherty says. "He really puts his crutches through a lot of abuse. Now when we're testing new products, we always ask 'Is it Nico-proof?' We won't put it onto the market until the answer is yes."
In addition to playing for his varsity high school team at Concord-Carlisle Regional High School in Concord, MA, Calabria has also played for the US National Amputee Soccer Team and is an avid volleyball player, diver, wrestler, and parkour enthusiast.
Doherty and her SideStix co-owner Kerith Perreur-Lloyd are so impressed with Nico's athletic abilities that in May 2012 they signed him on to become SideStix's first sponsored athlete.
It's a win-win for Calabria
"SideStix revolutionized the forearm crutch," he says. "The design is lighter, stronger and tougher than any other crutch. They're the only crutches I've come across that can keep up with me."
To watch the video featuring Calabria's incredible goal, go to: http://www.youtube.com/watch?v=k2FzJVAHtSI
Other videos and high-resolution images available on requestion.
ABOUT SIDESTIX
Founded in 2009, SideStix offers the world's first and only damper shock absorbent crutches with attachable tips for a variety of terrains from neighbourhood streets to snow-covered mountains. SideStix crutches are used by professional athletes all over the world, as well as non-athletes who are looking for a more comfortable crutch. Ninety percent of SideStix users are not amputees but suffer from neurological disorders or are recovering from lower extremity trauma, such as a hip or knee replacement. The company's mission is to provide people who have difficulty walking, with a high-quality device that allows them to go wherever life takes them.