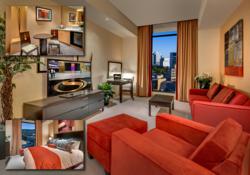 Reno, NV (PRWEB) October 08, 2012
The Siena Hotel Spa Casino in Reno, NV has upped the ante with new sweepstakes for special event visitors, Facebook fans and Twitter followers. On Wednesday, October 3rd two lucky contestants were notified that they won the Street Vibrations 2-Night Suite Stay Package. Both out of town winners, one from Big Bear, CA and the other from San Ramon, CA entered to win the 2- Night Suite Stay drawing during the Street Vibration festivities.
Not only are visitors winning special event giveaways and winning on the casino floor, but the Siena is making it possible to win thousands of miles away through Facebook and Twitter with their Friday Funday's and other online Sweepstakes.
The Siena had their first Friday Funday Giveaway on September 28th. Their Local winner Lisa M. picked up her Siena Basket that was overflowing with Siena goodies including wine glasses, champagne, chocolates and scrumptious treats.
"Our Friday Funday's and various Sweepstakes are just one of the many ways we keep the excitement going for our guests," said Scott Short, Director of Business Development at the Siena. "Facebook and Twitter allow our customers to be a part of the fun when they're not able to make it through our doors."
It's never too late to get in on the action. The Build Your Own Siena Escape Sweepstakes is underway! Three lucky winners will enjoy a Siena Suite, fine dining on the river and will complete their Escape by choosing to ski, relax at the spa or golf. Entries will be taken until twelve midnight on Monday, October 15th. Winners will be randomly selected and announced on Tuesday, October 16th.
Don't miss out on your chance to win, become a SienaReno Facebook Fan or Twitter follower for your chance to win amazing sweepstake prizes. The Siena Hotel Spa Casino is ensuring that the fun never ends with new sweepstakes, now that's Reno's New Gold Standard.
# # #
The Siena Hotel Spa Casino reopened on April 21, 2011 with completely remodeled rooms, restaurants, a world class spa and casino. The Siena sits where the historic Holiday casino once graced the banks of the Truckee River in beautiful downtown Reno adjacent to the National Automobile Museum and the Pioneer Theater. For more information on the Siena Hotel Spa Casino either phone 877-743-6233 or visit their website at http://www.SienaReno.com.