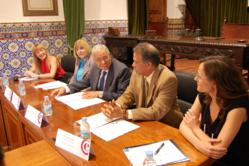 We hope this program will become a model for us to use in other parts of the world. If it is successful, we may be able to offer participation to non-Bryant students.
-- Jose-Marie Griffiths, vice president for academic affairs
Smithfield, RI (PRWEB) October 09, 2012
As part of its mission to provide a global real-world perspective for its students, Bryant University has launched a specialized study-abroad program in Salamanca, Spain, that incorporates an international internship with some of the city's leading businesses and organizations.
The program is a collaboration among Bryant University, the University of Salamanca, the Salamanca Chamber of Commerce and Academic Programs International. It incorporates an AACSB-accredited business course with classes in Spanish language and culture and a 12-week internship for academic credit. The internships include work at companies that deal in logistics, supply chain management, international trade, marketing and communication, finance, government and business relations, business development, technology services, and database development. (Contact Tracie Sweeney for the names of the companies.)
The partnership was formally signed in late August in Salamanca (see video). Under the agreement:

The University of Salamanca provides Spanish language, culture and other relevant courses for Bryant students;
The Salamanca Chamber of Commerce, working with its member organizations, offers the academic internships;
Academic Programs International facilitates housing, dining and logistics.
"This unique program gives eligible Bryant students the opportunity to study and work in Salamanca, which is widely regarded as the best place in the world to attain Spanish language and cultural knowledge," said Jose-Marie Griffiths, vice president for academic affairs. "We hope this program will become a model for us to use in other parts of the world. If it is successful, we may be able to offer participation to non-Bryant students."
Fourteen of Bryant's International Business majors are taking part in the inaugural program. They and Madan Annavarjula, associate professor of management and director of the University's International Business Program, arrived at the University of Salamanca in mid-August. There, Professor Annavarjula taught "Institutional Context of International Business: Special Focus on European Union." When that course wrapped up at the end of August, the students began an intensive three-week Spanish language and culture course taught by faculty at the University of Salamanca. The remainder of their semester includes:
Continued coursework at the University of Salamanca through Dec. 21;
Internships with companies and organizations in Salamanca through Dec. 21.
The program offers a number of advantages, Annavarjula said: The international work experience and academically rigorous, relevant coursework give students "a fantastic learning opportunity" and the companies can serve as mentors to the students while "taking advantage of their knowledge of American markets."
###