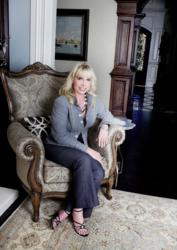 (PRWEB) October 08, 2012
The expanding Haute Design Network is pleased to welcome Cindy Porsche, of Luxury Lifestyles Design in Atlanta Georgia. With 20 years of experience in interior design, Cindy Porsche has been selected to work on several show homes, been featured in two books and numerous magazines, and has established herself as the premier designer in Atlanta. The firm works with a wide range of styles, always working to interpret the goals of their clients to achieve superlative results which transcend trends.
About Haute Design Network
Haute Design Network selects interior designers that have displayed a high level of expertise and accomplishment in their field. This exclusive circle of leading interior designers is invited to bring their past, current, and future work to Haute Living readers. Schmitt and his colleagues are featured on Haute Design Network's comprehensive website as exclusive interior design professionals, along with daily blog posts, articles, and up-to-date reports related to design, real estate, and luxury. All this and more may be accessed by visiting http://www.hautedesignnetwork.com.
About Cindy Porche
Cindy Porche, owner of Luxury Lifestyles Design, has enjoyed a successful design career for over 20 years in the Atlanta area. Having clients that span throughout Atlanta and various homes across the United States, Luxury Lifestyles Design team uses timeless design as the key inspiration to keeping inspired interiors beautiful. Luxury Lifestyles Design handles every aspect of each client's project with careful conceptualization from architectural detailing to custom fabrics and finishes. Porche has also been selected to participate in several show homes since 1999 and has also been featured in two book publications and numerous magazines establishing herself as one of Atlanta's prominent designers
About Luxury Lifestyles Design
Don't let our name fool you! We stand on the philosophy that everyone can enjoy the everyday luxuries in life. Our clients span throughout Atlanta and various homes across the United States. Timeless design is our key inspiration to keeping inspired interiors beautiful.
Interior design is a very personal process. We understand and visualize not only what you see, but who you are. Then, drawing upon our immense body of experience, we will work together to quantify and create that vision.
We will handle every aspect of the design process from architectural meetings with your architect /builder and provide our professional contractors to add and complete the perfect finishing touches for your project. Years of experience have forged solid relationships with Atlanta's finest design sources, contractors, & artisans ensuring that you have a wonderful "once in a lifetime experience"! We always give our clients the look they want while establishing a personal and professional relationship to answer any needs along the way.
Read more on Cindy Porche and Luxury Lifestyles Design at http://www.hautedesignnetwork.com/designer/cynthia-porche/.