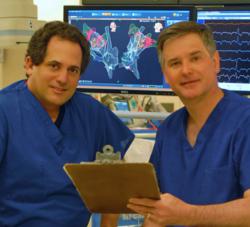 The advantage of the S-ICD ®System is that no hardware (lead) is inside the heart, thereby avoiding the biggest problems defibrillation patients now face today.
Scottsdale, Arizona (PRWEB) October 09, 2012
Drs. Thomas Mattioni and David Riggio, clinical investigators in Arizona of the novel Subcutaneous Implantable Defibrillator (S-ICD®System), announced today that the U.S. Food and Drug Administration approved Boston Scientific's new treatment option in the US market. The S-ICD is the only implantable heart defibrillator system that is entirely placed under the skin, without any direct contact with the heart.
"This new defibrillator system provides protection from sudden cardiac arrest for those patients who are at risk of this condition or who have been lucky enough to survive such an event," said Dr. Thomas Mattioni, managing partner of Arizona Arrhythmia Consultants, the leading cardiac electrophysiology group in Scottsdale, Arizona. "The advantage of the S-ICD is that no hardware (lead) is inside the heart, thereby avoiding the biggest problems defibrillation patients now face today."
Dr. David Riggio, his partner in Arizona Arrhythmia Consultants and one of the state's foremost recognized lead (wire) extractors agreed. "The problem with ICD technology today has been the defibrillation conductor wires called "high powered leads." Transvenous defibrillators currently on the market require a physician to insert an electrical defibrillation wire into a vein and guide it into the patient's heart via X-ray fluoroscopy."
"Defibrillation "leads" have been known to have mechanical failures which can provoke a life-threatening condition. This is partly due to the stress they're under from moving with each heartbeat. Lead wire extraction and replacement can be a difficult and dangerous procedure. The S-ICD® System provides an alternative for treating patients with life-threatening heart arrhythmias and it is an important new treatment option for patients."
An implantable defibrillator is a small battery-powered device that constantly monitors a person's heart rhythm and can provide a therapeutic amount of electricity to restore the heart to normal rhythm when the heart is beating dangerously fast (tachycardia) or chaotically.
Boston Scientific's Subcutaneous Implantable Defibrillator (S-ICD) System utilizes a lead wire that is implanted just under the skin along the bottom of the rib cage and breastbone. Because the lead is placed under the skin rather than through a vein into the heart, a physician can implant the device without accessing a patient's blood vessels or heart and without the need for fluoroscopy.
"The S-ICD System, provides an electric shock to the heart (defibrillation) when there is an sudden loss of heart function, caused by tachycardia or ventricular fibrillation, a rapid and/or chaotic rhythm," said Dr. Mattioni. "Thousands of people in the United States, as many as 850,000, are at risk of Sudden Cardiac Arrest (SCA) but are not protected. Hopefully with this new S-ICD System more patients will be referred to a specialist and it will improve patient acceptance of ICD therapy."
In April the FDA's Circulatory System Devices panel voted to approve the device 7-1. Approval of the S-ICD System was based on data from a 330-patient, prospective, non-randomized, multicenter clinical study. Arizona Arrhythmia Consultants were clinical investigators for the study at Scottsdale Healthcare Medical Centers. The study results supported that the S-ICD System was a safe and effective therapeutic option for patients at risk of sudden cardiac death.
The S-ICD system is intended to provide defibrillation therapy for the treatment of ventricular tachyarrhythmias in patients who don't have symptomatic bradycardia(a slow heart beat) and who do not require a pacemaker or pacing therapy.