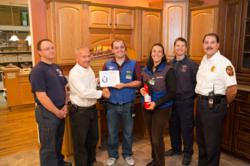 West Lafayette, Indiana (PRWEB) October 06, 2012
Brenneco Fire Protection presented Menards of West Lafayette with the distinguished Sprinky Award earlier today. This Menards location was commended for its diligence and commitment to fire safety. This award is bestowed on organizations that have gone above and beyond to safeguard their people from the threat of a fire.
"There is no such thing as being too careful when it comes to preventing a fire emergency," says Eric Flora, owner of Brenneco Fire Protection. "We wanted to recognize the West Lafayette Menards for continually working to ensure that they have the best safeguards in fire protection in place. They are an excellent example of an organization committed to protecting their employees and customers."
Brenneco Fire Protection has been performing inspections at the West Lafayette Menards for the past three years. Services include inspections of both wet and dry sprinkler systems, inspecting fire pumps and fire hydrants and testing backflow devices.
"At Menards, we treat our guests like family in a local, hometown hardware store atmosphere," says West Lafayette Menards General Manager, Larry Thompson, Jr. "Caring for our customers and employees by adhering to recommended fire safety measures is in line with our strong Midwestern values. In West Lafayette, Indiana, Brenneco Fire Protection helps Menards stay safe."
Past recipients of the Sprinky Award include the Kokomo Civic Center, City of Lafayette, IU Health Arnett and Cook Biotech.
Brenneco Fire Protection
Brenneco Fire Protection, based in Carroll County, serves all of Central Indiana with the best defenses in fire protection. Our expert team provides installation, service and inspection services for customers who believe that keeping their businesses and homes safe is a top priority. We service any size industrial, institutional, commercial or residential building. Being trusted advisors for our customers and providing the best safeguards in fire protection are at the foundation of our operations. Check out the fire inspection checklist to find out how well you are protected from the threat of a fire.