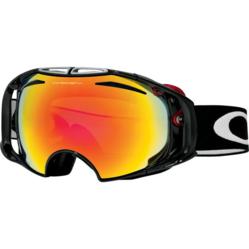 "The oversized lenses and ease of swapping them makes this years goggle decision pretty much based on colorways, as the tech is pretty even across the board."
Annapolis, MD (PRWEB) October 08, 2012
Most all the winter goggle companies have a version of the oversized lens and the easy off and on function of swapping them out. This snowboard season seems like the year to accessorize with more than 1 or 2 colorways.
The sun may have blinded some park landings in the past, but with the easily swappable lens of the Oakley Airbrake Goggle, stomping it all in any light because much easier. The glove-friendly, pivoting Switchlock Technology pops the lens out of the frame and makes it a breeze to replace it with an included spare that better matches the mountain's conditions. Clamp down the built-in switch, you'll get that same undistorted, UV-blocking, and glare-busting Oakley vision for every bump, cat track, and landing that crosses that snowy war path.
Tough Plutonite lenses block out 100% of UVA, UVB, UVC, and harmful blue rays. Rigid outer frame and flexible inner frame yield a durable but form-fitting design that doesn't cramp any nasal cavity. Three-layer fleece foam liner is soft and smooth on the face and dries quickly after rag-dolling for a hundred yards and sweat while retrieving all the gear dropped. Dual top lens vents and F3 Fog Technology prevents interior condensation during hikes and after falls. Interchangeable strap outriggers let allows fine-tuning the fit to any helmet or helmet-free riding.
Comes with two differently shaded lenses (and a soft case) that match high and low-light conditions, but Oakley offers many more lens options (sold separately).
Dragon's widest and most advanced goggle, now shaped for medium-sized faces. Endless peripheral vision—that's what the APXS gives when pulled on the APXs Goggle. Dragon took its wildly popular APX goggle, sized it down for medium-sized faces, and the APXs was born. The APX platform is like the luxury SUV of Dragon's winter goggles. There's insane comfort, ultra-wide lens coverage, distortion-crushing and fog-busting optical technology, and helmet compatibility—no missile launcher though, maybe next year.
Lens is crafted with injection-molded polycarbonate to make it highly resistant to impact and scratches. Super Anti-Fog lens design uses a moisture-repellent coating to keep sweaty vapors from building up on the inside of the lens. Uni-directional venting pulls cool air in through the top of the lens and through dual vents in the top of the goggle frame. Triple-layer face foam and a microfleece lining put a soft layer of padding between face and the highly durable polyurethane frame. Numbered lenses installation system uses etched numbers on the frame that line up with numbers etched into the lens so its easy to know exactly how to align the lens to get the fit right the first time. Hardcase included with goggle.
Pure Board Shop opened its doors on May of 2005. After co-owning Evolve Board Shops in Annapolis and Bethesda Maryland from 1993 to 2003, Robby Roberts put Pure on the streets a few years later. Its ease of access and parking make it a destination shop for riders and urban street wear fans alike. With their mix of products and variety in skate, snowboard , surf and exclusive street wear and shoe brands Pure's customers extend far beyond their Annapolis location. Pure prides itself on customer service being its number one priority, with product knowledge and having the right product mix a close second. The store and the website feature an ever growing inventory from brands such as Nike SB, Nike Snowboarding, Travis Rice, Lib Tech, Adidas skateboarding, Vans, Levi Skateboarding, Diamond, HUF, LRG, Neff, RVCA and The Hundreds, as well as a large selection of Sunglasses and other accessories. The shop also prides itself on having the largest inventory of longboard equipment in the area; with brands like Landyachtz, Rayne, Caliber, Cult, RAD, Abec11 and many more. Pure puts on skateboard jams and video premieres at their local skateboard park as well as sponsors many longboard slide jams and races in the Metro Area.
Contact Pure at 410-267-7669.
Their new website will be up soon.