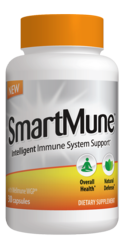 SmartMune provides the natural ingredients capable of providing year-round immune support and protection. Now, individuals can take advantage of SmartMune being available for sale online from the comfort of their own home
Albert Lea, MN (PRWEB) October 08, 2012
SmartMune, a unique new product that is clinically proven to safely prime immune cells that keep the body healthy year round, is now available for consumers to buy online at Amazon.com, Kmart.com, and Walmart.com.
"We are so pleased to provide consumers with quick access to SmartMune through such reputable online retailers," said Glenn Sherburne, President of MunaCare, LLC, the marketer of SmartMune. "With Fall around the corner and holidays approaching quickly, more and more individuals will need to prime their immune system and SmartMune provides the natural ingredients capable of providing year-round immune support and protection. Now, individuals can take advantage of SmartMune being available for sale online from the comfort of their own home."
By activating billions of innate immune cells that are a major part of a body's natural defenses, SmartMune strengthens a body's key immune responses and supports general health and well-being. It mobilizes immune cells to protect against the harmful effects of stress and improves vigor and mental clarity while reducing fatigue and tension.
An independent university study recently demonstrated that Wellmune WGP®; SmartMune's active ingredient, is significantly more effective than other leading nutritional supplements in activating the immune systems to maintain health and wellness.
To buy SmartMune, please visit: Amazon.com, Walmart.com, or Kmart.com.
About SmartMune
SmartMune is a natural ingredient that is clinically proven to safely strengthen your body's key immune responses. SmartMune activates billions of innate immune cells that are part of the body's natural defenses, to prime the immune defenses without over stimulating the immune system. Smartmune's active ingredient, Wellmune WGP's year-round protection is the culmination of more than $300 million in research with leading university and government institutions. Clinical studies demonstrate that SmartMune strengthens the function of key immune cells, maintains energy, vitality and mental clarity, and activates key immune cells to protect against the harmful effects of stress. For more information, please visit: http://www.smartmune.com.
About Wellmune WGP®
Wellmune WGP® is a natural carbohydrate that is clinically proven to strengthen key immune cells that keep the body healthy. This unique food, beverage and supplement ingredient is Generally Recognized as Safe (GRAS) under U.S. FDA regulations. It is also patented, Kosher, Halal, non-allergenic and free of genetically modified organisms. This award-winning ingredient is a product of Biothera, a U.S. biotechnology company dedicated to improving immune health.
About Amazon.com
Amazon.com, Inc., a Fortune 500 company based in Seattle, opened on the World Wide Web in July 1995 and today offers Earth's Biggest Selection. Amazon.com, Inc. seeks to be Earth's most customer-centric company, where customers can find and discover anything they might want to buy online, and endeavors to offer its customers the lowest possible prices. Amazon.com and other sellers offer millions of unique new, refurbished and used items in categories such as Books; Movies, Music & Games; Digital Downloads; Electronics & Computers; Home & Garden; Toys, Kids & Baby; Grocery; Apparel, Shoes & Jewelry; Health & Beauty; Sports & Outdoors; and Tools, Auto & Industrial. Amazon Web Services provides Amazon's developer customers with access to in-the-cloud infrastructure services based on Amazon's own back-end technology platform, which developers can use to enable virtually any type of business.
About Kmart.com
Kmart, a wholly owned subsidiary of Sears Holdings Corporation, is a mass merchandising company and part of ShopYourWay, a social shopping experience where members have the ability to earn points and receive benefits across a wide variety of physical and digital formats through ShopYourWay.com. Kmart offers customers quality products through a portfolio of exclusive brands that include Sofia by Sofia Vergara, Jaclyn Smith, Joe Boxer, Route 66 and Smart Sense.
About Walmart.com
Wal-Mart Stores, Inc. helps people around the world save money and live better – anytime and anywhere – in retail stores, online, and through their mobile devices. Each week, more than 200 million customers and members visit our 10,300 stores under 69 banners in 27 countries and e-commerce websites in 10 countries. With fiscal year 2012 sales of approximately $444 billion, Walmart employs more than 2 million associates worldwide. Walmart continues to be a leader in sustainability, corporate philanthropy and employment opportunity.