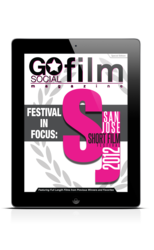 They aim to help talented filmmakers from all walks of life have their special short films find an audience.
San Francisco, CA (PRWEB) October 05, 2012
Each Festival In Focus special issue will highlight a particular short film festival by delivering past prize winning and official selection films to subscriber iPads, along with filmmaker and festival organizer interviews and articles. Subscribers will be able to watch festival films in their entirety within the digital pages of the magazine.
The first issue of the Festival In Focus series shines the spotlight on the San Jose International Short Film Festival. Now in it's fourth year, this Silicon Valley, California festival brings filmmakers, film lovers and industry professionals together for four days each Fall - this year on October 18th - 21st, 2012. Along with short film screenings, the festival hosts networking events and speaker panels, such as this year's Screenwriting Panel with Pilar Alessandra, director of the popular writing program "On The Page".
"We first met SJSFF Festival Director MacKenzie Smith this past May at the Cannes Film Festival and hit it off right away. The spirit of their festival is much the same as ours. They aim to help talented filmmakers from all walks of life have their special short films find an audience." Nadzeya Huselnikava, CEO/ co-founder of GSFM Go Social LLC.
By collaborating with specific film festivals internationally, Go Social Film intends on extending the lifespan of festival circuit films by bringing them to magazine subscribers on their mobile iPads. Included filmmaker interviews and articles allow readers to experience and enjoy these films more fully.
"We are very excited about our partnership with Go Social Film and honored to be the inaugural festival for these special editions", says Bill Hargreaves, Co-Founder of the festival. "It's a great way to help us promote these spectacular films and filmmakers to an even wider audience".
Go Social Film Magazine is the first iPad magazine to feature international short films and deliver these films in their entirety directly to viewer iPads.
About Go Social Film Magazine:
"Bringing You The Best Short Films From Around The World, Straight To Your iPad."
Go Social Film Magazine is published by Go Social LLC. Each month readers are treated to a variety of short films from filmmakers around the world, and are taken behind the scenes to meet the filmmakers and learn about the production of their films through exclusive interviews, unseen footage, and interactive multimedia articles.
Go Social Film Magazine's mission is to seek out talented international filmmakers with unique and compelling short films, and bring them to a global audience via the iPad.
The Go Social Film iPad Magazine App is available for free download in the iTunes Store now -http://itunes.apple.com/us/app/gs-film-mag/id524555282?&mt=8
About Go Social LLC:
Go Social LLC is a San Francisco based publishing and social media marketing company with partners in New York and Amsterdam, The Netherlands.
For more information contact Nadzeya Huselnikava at nadzeya at gosocialfilm dot com or visit their website http://www.GoSocialFilmMagazine.com.