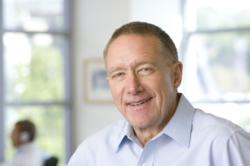 At Wasatch, our portfolio managers are always looking for healthy, innovative and well-managed companies that are growing much faster than the overall economy—we just have to find them and buy them at the right price.
(PRWEB) October 08, 2012
Wasatch Advisors today released Chairman Sam Stewart's third quarter 2012 insights on the economy and the stock market.
Stewart notes that his outlook has evolved over the past few years. Shortly after the 2009 market lows, he was bullish regarding the investment potential for stocks when overall stock valuations were compelling and investors were fearful. As the market rallied since 2009, his optimism waned. He moved first from bullish to cautiously bullish. Now he considers himself nervously bullish.
Said Stewart as he raised the caution flag even higher from last quarter, "There are three main reasons for concern: (1) most stocks have become more expensive; (2) the current actions of the U.S. Federal Reserve aren't likely to improve economic conditions in the short term and pose an inflationary threat in the long term; and (3) I'm disappointed by our politicians' continued refusal to work together to deal with our most critical challenges."
While Stewart is less bullish on the overall stock market, he still believes it's a stock picker's environment where Wasatch can continue to uncover some of the "World's Best Growth Companies" that have the potential to outperform the overall economy. Said Stewart, "At Wasatch, our portfolio managers are always looking for healthy, innovative and well-managed companies that are growing much faster than the overall economy—we just have to find them and buy them at the right price."
Comments from Sam Stewart, Chief Investment Officer and Chairman, Wasatch Advisors
Economy
After the financial crisis in 2008 and early 2009, the Federal Reserve (Fed) started on a path of "quantitative easing" (QE) by buying government securities to support bond prices and lower interest rates in an effort to stimulate the economy. The first massive purchase of securities was known as QE1. Most reasonable institutional investors considered QE1 to be a prudent response to the crisis. Although QE1 helped to bolster asset prices (stocks, bonds and commodities), economic conditions didn't improve as much as hoped and unemployment remained stubbornly high. The Fed's second round of quantitative easing (QE2) and so-called "Operation Twist"—the simultaneous sale of short-term Treasuries and purchase of long-term Treasuries in an effort to lower long-term rates—was met with increasing skepticism among institutional investors. But there was still some sympathy for the Fed's predicament in trying to meet its dual mandate of promoting maximum employment and stable prices, especially with the concerns surrounding the earthquake and nuclear crisis in Japan.
Now we come to a third round of quantitative easing (QE3) and a commitment from the Federal Reserve to keep interest rates at extremely low levels at least through 2015. Fed Chairman Ben Bernanke argues that, in the absence of reasonable fiscal policies coming from our politicians, QE3 is the best alternative. I strongly disagree. If I were in Chairman Bernanke's shoes, I'd issue a statement that the Fed has already done what it can to put the economy on the right track, and that it's now time for the Executive Branch and Congress to take the lead in tackling the critical fiscal issues of taxes, spending, debt, deficits, infrastructure, education and employment.
I believe the Federal Reserve is out of ammunition primarily because low interest rates alone can't stimulate the economy and bring down unemployment. As I see it, the problems in our economy have more to do with confidence and demand. An entrepreneur recently told me that when he was young and inexperienced, he had no trouble getting financing. Now, even though he's older and has a successful track record, banks are unwilling to lend. In addition to the challenges in obtaining financing, companies are faced with weak demand from customers who are dealing with their own economic problems. Ironically, announcing QE3 may have actually scared some businesspeople more as they could view the Fed's action as a sign that conditions are getting weaker.
The main beneficiaries of low interest rates have been large companies that are able to refinance their debt, and large banks that pay little or nothing on deposits and earn a modest spread by investing in Treasuries. Stock, bond and commodity prices have also benefited in general, partially due to the perception that the Federal Reserve has been targeting asset prices as a way to improve confidence in the economy.
Unfortunately, many people haven't participated in these asset-price improvements because they've mostly stayed out of the markets after the devastation in 2008 and early 2009. There have been stronger flows into intermediate- and longer-term fixed-income investments, however. I just hope that investors understand the price risks in these investments when interest rates eventually rise.
Political gridlock in Washington is about as bad as I've ever seen during my career. And we're fast approaching the "fiscal cliff" in which tax cuts are set to expire and federal spending is scheduled to be reduced. Although taxes and spending need to be dealt with comprehensively over the long term, the automatic tax increases and spending reductions aren't what the economy needs right now. I'm cautiously optimistic that the ideologues on both sides of the aisle will get their acts together and initiate a compromise because the political fallout of inaction would be enormous. After we get past the fiscal cliff, I believe that two of the most pressing issues we face today are infrastructure and education. If we're not strong in both of these areas, we won't be able to effectively compete on a global basis, grow our economy, employ our people, and pay off our debts.
Markets
Despite the challenges in the economy, the overall stock market and most of the companies in our portfolios advanced strongly during the third quarter of 2012. Including reinvested dividends, the S&P 500 Index was up 6.35% for the quarter. Anticipation of QE3 probably played a role in this market advance. But in many cases, I believe that company fundamentals also played a role. Indeed, when I speak to the managements of many of the companies we own, I'm impressed by their resilience. I often hear that our companies are doing well by providing cost-effective products and services to their struggling customers. So the recurring theme seems to be efficiency. Companies that help their customers be efficient and save money are typically the ones we find most attractive as investments.
This focus on efficiency often leads us to companies that are front and center in the information-related economy. For example, technology tends to be less capital intensive than manufacturing. And if a technology company is successful, its cash flows and profits can be enormous relative to the cost of starting the business. I believe the high level of cash being generated by some companies, particularly tech companies, is responsible for a good portion of the stock buybacks we're seeing today. Buying back stock may be especially attractive to companies because buybacks tend to be more discretionary than increasing a dividend, which establishes an expectation of a commitment going forward. Look at a company like tech giant Apple. The shares currently trade at just 14 times (forward) estimated earnings, so buying back stock is a good way to increase shareholder value during periods when the company's excess cash isn't needed for continuing operations, new ventures or acquisitions.
Wasatch
Like many of the technology companies in which we often invest, our business at Wasatch Advisors isn't capital intensive. Our people are our most important assets. That's why we invest heavily in their education and training, give them the resources they need to succeed, and try to create a stimulating work environment.
A further aspect of getting the most from our people—and therefore offering high value to our investors—is our willingness to expand our research and to carefully launch additional investment products. From the outside, it may be difficult to discern the reasons for our product launches. Sometimes we launch products that fall into broader categories, but with a finer focus. A good example is our Wasatch Emerging Markets Small Cap Fund (WAEMX), which at the point of its inception in 2007 was one of the few no-load emerging markets mutual funds focused on small cap stocks. At other times we launch products that may appear to be very specialized. These products play key roles in supporting Wasatch's overall "Multiple EyesTM" deep due diligence—where all company research from around the world is shared internally.
Another important point is that our investment products aren't training grounds for inexperienced analysts. Our products are launched when we see opportunities in the financial markets to generate attractive returns, and when we have the talent on staff to take advantage of these opportunities. I believe this product launch philosophy helps us retain our investment professionals, enhances their skills, and generates more outstanding investment ideas for the firm as a whole. Clearly, this philosophy benefits our people. But more importantly, I believe it benefits our clients who understand our vision and invest with us.
About Wasatch
Wasatch Advisors is the investment manager to Wasatch Funds®, a family of no-load mutual funds, as well as separately managed institutional and individual portfolios. Wasatch Advisors pursues a disciplined approach to investing, focused on bottom-up, fundamental analysis to develop a deep understanding of the investment potential of individual companies. The portfolio managers employ a uniquely collaborative process to leverage the knowledge and skill of the entire Wasatch Advisors research team in making investment decisions. Wasatch Advisors is an employee-owned investment adviser founded in 1975 and headquartered in Salt Lake City, Utah.