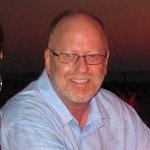 The Company's innovative technology has excellent potential to transform NDT inspection as we know it with its ground-breaking, non-invasive approach that is both technically sound and business smart.
Santa Clara, CA (PRWEB) October 09, 2012
AcousticEye Ltd., a pioneer in non-invasive tube inspection for the global heat exchanger and boiler NDT (non-destructive testing) markets, today announced that Mr. Jeffrey D. Siegel has joined the company as Vice President of Business Development.
A technical sales and business development professional in the NDT industry for over 27 years, Mr. Siegel has extensive experience in driving market adoption of new technologies and playing a key role in the achievement of next-stage business growth. Mr. Siegel was most recently Owner and Principal of Solnex, Inc., a NDT consultancy firm focusing on the nuclear power generation market.
Commenting on the appointment, Mr. Siegel said: "I am very pleased to be part of AcousticEye. The Company's innovative technology has excellent potential to transform NDT inspection as we know it with its ground-breaking, non-invasive approach that is both technically sound and business smart. I look forward to working with my industry peers worldwide to demonstrate AcousticEye's solid value proposition and cost-saving benefits for their operations."
Mr. Yoav Harel, Chief Executive Officer of AcousticEye Ltd., said "Together with our growing team of veterans from the NDT industry, Jeff brings additional depth to our organization with his ability to manage technical sales aspects of new product introductions, major customer relationships and marketing of mission critical NDT technologies used in the nuclear power, aerospace, petrochemical, and manufacturing industries. As a long-time specialist in this business, I am confident that Jeff will help us make further headway as a leading inspection solution provider."
About AcousticEye
AcousticEye Ltd. is a pioneer in non-invasive tube inspection for the global heat exchanger and boiler NDT (non-destructive testing) markets. With breakthrough capabilities for inspecting today's most challenging tube sizes and configurations up to 4", it is possible to inspect boilers, Fin Fans and other heat exchangers in any shape or material. Ultra-fast, accurate testing can be performed at a fraction of typical inspection cycle times and without extra inventories of consumable probes and standards. Utilizing Acoustic Pulse Reflectometry (APR) technology, AcousticEye's Dolphin G3™ is a very advanced yet easy-to-use tool. With its simple operation, automated analysis and report generation, there are minimal training requirements and far less dependency on operator expertise. http://www.acousticeye.com