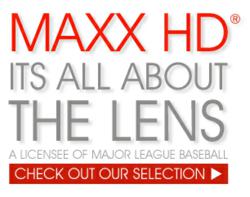 (PRWEB) October 05, 2012
MAXX HD ® Sunglasses the leader in affordable high-definition sunglasses is pleased to announce they will be an in-kind sponsor at the 6th Annual KOATS 4 KIDS fundraising event. MAXX HD ® has pledged to donate one pair of their junior sunglasses to KOATS 4 KIDS, for every attendee who likes them on Facebook during the event . This popular local event is scheduled for Friday, October 5, 2012 5:30 - 9:30 p.m. at the Mining Exchange Hotel – located 8 South Nevada, Colorado Springs, 80903. This year's event will benefit Hunt Elementary School in School District 11 and The Colorado Springs Conservatory.
"Maxx is extremely proud to be able to support such an amazing event, which is dedicated to supporting underprivileged children in our community, "stated MAXX COO Bret Milner.
Children as young as three should be wearing sunglasses when playing outside in bright weather, say specialists. The lenses of a child's eye are more transparent than an adult's, allowing more short-wavelength light to reach the retina. It is exposure to this light, and the sun's UV rays, that can lead to a variety of vision disorders, research by the American Optometric Association suggests.
"Up to 80 percent of sun exposure takes place before the age of 18 as children spend a lot of time outdoors." stated Chana Kolman MAXX PR/Marketing Director. " We hope to donate hundreds of children's sunglasses at the event this year".
Koats 4 Kids identifies a different elementary school each year to be the recipient of the coat drive. Selection is based on the needs of the students. Since its inception, Koats 4 Kids has provided a coat to every student in five elementary schools in the Pikes Peak region including Will Rogers Elementary (D-11), Oak Creek Elementary (D-3), Pinnello Elementary (D-2), Evans Elementary School (D-49) and Aragon Elementary (D-8). In addition, Koats 4 Kids has raised over $30,000 for The Colorado Springs Conservatory. The Conservatory provides performing arts enrichment for student ages 4 through 19 and supports the humanities by engaging students in community advocacy and leadership activities.
For more information about MAXX HD at http://www.maxxsunglasses.com