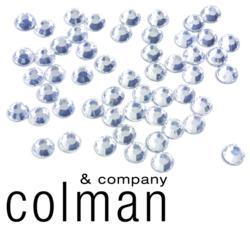 Tampa Fl (PRWEB) October 08, 2012
Colman and Company, a national apparel decorating supplier based in Tampa, FL that specializes in Hotfix Rhinestones, Direct to Garment and Embroidery Supplies experienced record sales at the ISS Show (Imprinted Sportswear Show) in Ft. Worth, Texas last week.
Colman and Company, and its sister company ColDesi, have always been successful in winning new customers at the ISS Shows, but this show beat even the company's highest expectations. Products sold at the ISS Show included The Patch Kit, which is a unique method of creating iron on patches for small embroidery shops, bulk Hotfix rhinestones, and the GlitzUp Rhinestone Applicator tool.
Colman and Company's unique method of selling bulk Hotfix rhinestones at the show by allowing customers to fill provided bags using an ice-cream scoop really brought in the crowds. The company sells 50 Gross (7,200) bags of Hotfix rhinestones on the website, and had them at the show as well, but people were able to scoop their own out of buckets of rhinestones and got a little more than the 50 gross per bag for their money and had fun doing so.
The Company attributed its success not only to the products and personnel, but to the market as well. There were hundreds of people in the embroidery businesses that were looking into expanding to include rhinestones at some level. Many purchased CAMS automatic rhinestone setting machines from ColDesi, but others wanted to simply add rhinestones to their embroidery designs.. that's where the Glitz Up Tool and the bulk Hotfix rhinestones came in.
Colman and Company and ColDesi also attributed their increased traffic and sales to their growing reputation in the Texas market citing requests for a quality supplier of Genuine DTG Inks, Madeira Thread and Rhinestone Decal Material as primary factors.
For questions please contact:
Michael Georgevich
Colman and Company
5409 S. Westshore Blvd,
Tampa, FL. 33611
1-800-891-1094
customerservice(at)colmanandcompany(dot)com