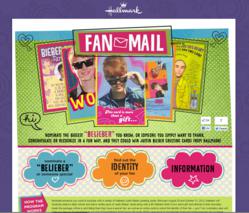 This program will give several lucky Bieber followers a chance to experience a bit of celebrity themselves by receiving Justin Bieber branded fan mail from a secret "fan" of their own.
Kansas City, MO and New York, NY (PRWEB) October 08, 2012
Superstar Justin Bieber receives mail from fans daily. Now everyone can treat a friend or family member they also think is a rock star to a taste of stardom with the Hallmark Fan Mail program, created in partnership with Bravado, the world's leading merchandising company.
Now through October 31, 2012, consumers can go to Hallmark.com/fanmail and nominate someone they think deserves the star treatment. Each day, Hallmark will randomly select a nomination and send the winner a surprise selection of Justin Bieber Hallmark greeting cards on behalf of their "fan."
"Bravado works closely with Justin Bieber to develop innovative new merchandise to satisfy his fans, who are among the world's most devoted," commented Felix Sebacious, Senior Vice President, A&R, Bravado. "This program will give several lucky Bieber followers a chance to experience a bit of celebrity themselves by receiving Justin Bieber branded fan mail from a secret "fan" of their own."
"Many people deserve to have their own 'Beliebers' rooting for them," said Hallmark spokesperson Deidre Mize. "We've already heard some pretty amazing stories of Justin Bieber fans who are also stars themselves, like these:"

"She is a fan of Justin Bieber, but above all she is my 16-year- old niece. When she was a baby, she smiled at me the first time she saw me, and at five years old told me, 'Auntie, when you get old, I am going to take care of you.' I don't have children, but even today, she is always checking on my well-being. A smile from her is worth a 1000 words."
"…she does many things worth recognizing, from volunteering and raising money for the shelter to helping in our community."
Included in the package, delivered to the "celeb," is a variety pack of Justin Bieber cards which feature innovations, including lights and songs from the pop sensation, along with a $5 Hallmark Gold Crown store gift card. The package will also contain a card telling the recipient she or he has a fan and provides a code that can be entered on Hallmark.com/fanmail to unlock the identity of his or her fan.
Each person who submits a nomination will be entered into a sweepstakes to win one of five Hallmark Gold Crown gift cards ($100 value each) to be selected at the end of the program. Complete Fan Mail program rules are available on Hallmark.com, and Justin Bieber Hallmark cards can be found at Hallmark Gold Crown stores, as well as other stores where Hallmark products are sold.
About Hallmark Cards, Inc.
Hallmark makes the world a more caring place by helping people express what's in their hearts and spend time together — a privilege few other companies in the world enjoy. Hallmark greeting cards and other products are found in more than 38,000 retail outlets in the United States, including the network of flagship Hallmark Gold Crown® stores. The brand also reaches people online at Hallmark.com and on television through Hallmark Hall of Fame original movies and cable's top-rated Hallmark Channel. Worldwide, Hallmark offers products in more than 30 languages available in 100 countries. This privately held company is based in Kansas City, Mo., and is led by the third generation of the founding Hall family. Visit http://corporate.hallmark.com for more details.
About BRAVADO
Bravado, the only global, 360 degree full service merchandise company, develops and markets high-quality licensed merchandise to a world-wide audience. The company works closely with new and established entertainment clients, creating innovative products carefully tailored to each artist or brand. Product is sold on live tours, via selected retail outlets and through Web-based stores. Bravado also licenses rights to an extensive network of third-party licensees around the world. The company maintains offices in London, Los Angeles, New York, Berlin, Paris, Tokyo and Sydney. Now under the Universal Music Group umbrella, Bravado is able to leverage a global sales and distribution network from the world's largest record company, as well as the group's significant marketing strength. Bravado artists include The Rolling Stones, Lady Gaga, Michael Jackson, Justin Bieber, Paul McCartney, Eminem, Kanye West, Metallica, Nickelback, Katy Perry, Guns 'N Roses, Red Hot Chili Peppers, Green Day, The Killers and Black Sabbath among many others.