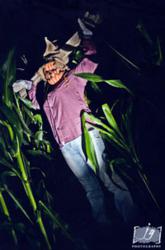 Yosemite area communities are gearing up for Halloween with a whole host of events, from the fun and unique to truly spooky
Oakhurst, CA (PRWEB) October 05, 2012
Yosemite area communities are gearing up for Halloween with a whole host of events, from the fun and unique to truly spooky.
Starting October 12, the Raisin Hell Haunted Ranch in Madera begins their season scaring customers on October 12. The ranch, voted Scariest Haunted Attraction in 2010 and 2011, has three different areas to test one's resolve. The haunts start at 7 pm and run until 11 pm. Visit http://www.RaisinHellRanch.com for more information.
If you're looking for Halloween decorative items, costumes and more, you may wish to drop by the Oakhurst Fall Festival on October 13 and 14. The Wild Wonderful Women are holding a silent auction with numerous Halloween related items up for bid. Proceeds from the sale, as well as from their Wonderful Treasures Thrift Store which also has numerous Halloween items, go to the King's Vintage Museum. Visit http://www.wildwonderfulwomen.com for more information.
Eastern Madera County Society for the Prevention of Cruelty to Animals will be the beneficiary of the Third Annual Zombie Walk on October 20 from 5 – 10 pm. Everyone is encouraged to dress in full Zombie attire and meet at A Cause 4 Paws at 40455 Highway 41 in Oakhurst. After the walk there will be an "Undead After Party" with music and food. Call 559-658-7297 for more information.
Oakhurst Lions Club a Night of Horror and Haunted House at the Lions' Clubs Camp Pacifica off of Highway 49 in Ahwhanee on October 26 and 27. Entry is a $10 donation. For more information, call 559-683-4475.
The North Fork Rancheria Tribal Tanf and Family Wellness center a holding a Haunted House as well. The scares begin at 5 pm on Halloween and run until 9 pm at the North Fork Rancheria Community Center.
The Children's Museum of the Sierra in Oakhurst is holding their first ever Halloween Festival on October 27. Children can learn relief-style pumpkin carving from carvers from the Sierra Woodcarvers, make Halloween decorations and more. The Sierra Lions Club will be on hand barbecuing lunch as well. Call 559-658-5656 for more information.
Perhaps the longest running Halloween themed event is the Coarsegold Tarantula Festival, which is celebrating its 14th year. There will be tarantula races, hairiest leg contests, baking contests and more. Call the Coarsegold Historic Village at 559-683-3900 for more information on that event.
For more events around Halloween and any other time, visit http://www.YosemiteThisYear.com