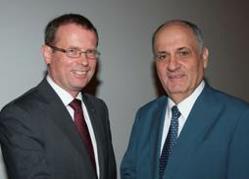 Companies who sit at the table where the rules of global trade are being written, avoid that the competition writes those rules for them. (Frans Vreeswijk)
Geneva, Switzerland (PRWEB UK) 8 October 2012
The IEC (International Electrotechnical Commission), the leading standards body in electrotechnology, announced today at the closure of its General Meeting in Oslo that Frans Vreeswijk has taken over the role of General Secretary and CEO. Frans Vreeswijk succeeds Ronnie Amit, who served as IEC General Secretary from 1999 until 30 September 2012.
An electrical engineer by training, Frans Vreeswijk worked for almost 30 years in research, development and general management with Philips, and was head of Intellectual Property and Standardization for the Healthcare sector of the company. With a strong personal interest in and commitment to electrotechnology, he has been the President of the IEC Dutch National Committee and has served on the IEC Council Board and the IEC Standardization Management Board.
Frans Vreeswijk understands first hand that active participation in international standardization offers very concrete advantages to industry: "Companies who sit at the table where the rules of global trade are being written, avoid that the competition writes those rules for them. More importantly, companies who understand the strategic advantage of participating in standardization activities achieve important benefits in terms of market access, waste reduction and resource optimization."
Ronnie Amit has brought the IEC through the dawn of the digital era to its position as the world's leading electrotechnology standards body. Today, close to 13 000 experts from industry, government, test and research labs, academia and consumer groups participate in IEC standardization and conformity assessment activities. Amit was instrumental in promoting the use of online tools to facilitate collaboration among experts and to speed up development and approval time of standards. In 2004, the IEC was probably the first international organization to switch from paper to a 100% electronic environment.
At the same time, the organization has moved closer to the market with the establishment of its regional centres in Sâo Paulo, Brazil; Boston, USA; Singapore and Sydney, Australia. Moreover, it is continuing to grow its membership base, which now totals 82 Full and Associate Members. At the same time the IEC is reaching out to developing countries through the Affiliate Country Programme. The programme is totally free of charge and 82 developing countries are participating in it. The IEC Young Professionals Programme is encouraging a new generation of experts to become more deeply involved in the world of standardization, earlier in their career.
To facilitate a smooth leadership transition, Frans Vreeswijk became the IEC Deputy Secretary General on 1 March 2012. In addition, Ronnie Amit will remain available full-time as Special Adviser to the IEC President until end-January 2013 and then on a part-time basis through to the completion of the February 2014 IEC management meetings.