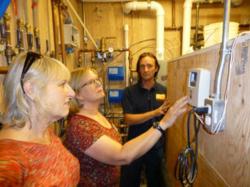 (PRWEB) October 07, 2012
The National Solar Tour, hosted by the American Solar Energy Society, comes to more than 500 neighborhoods this weekend, Oct. 6 and 7.
Now in its 17th year, the National Solar Tour features thousands of solar-equipped homes and small businesses across the country. Owners open their doors to demonstrate the benefits of going solar, with practical, affordable technology available now.
Plan to attend, and bring your friends!
Find a tour near you and download the new Tour Guide, at nationalsolartour.org. While you're there, enter the Solar Tour Sweepstakes for a chance to win home-efficiency products at a home-improvement store near you!
Support ASES now by donating to the Tour! Your donation will help us to expand this important outreach program in years to come. And your contribution is matched dollar for dollar by a generous donor. Donate now at causes.com/ases to keep the nation's largest solar event growing!
Leading for more than 50 years: Established in 1954, the nonprofit American Solar Energy Society (ASES) is the nation's leading association of solar professionals & advocates. Our mission is to inspire an era of energy innovation and speed the transition to a sustainable energy economy. We advance education, research and policy. ASES leads national efforts to increase the use of solar energy, energy efficiency and other sustainable technologies in the U.S. We publish the award-winning SOLAR TODAY magazine, organize and present the ASES National Solar Conference and lead the ASES National Solar Tour — the largest grassroots solar event in the world. ASES is the U.S. section of the http://www.ises.org/index.html .
Contact:
Seth Masia
smasia(at)solartoday(dot)org
303.443.3130