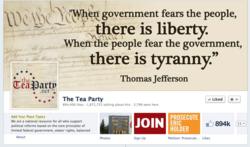 Washington, D.C. (PRWEB) October 05, 2012
TheTeaParty.net is about to hit 900,000 Likes on Facebook, emphasizing that our message of smaller, more responsible government resonates with a significant percentage of America.
"We started at a very grassroots level in 2009," stated Chief Strategist Dustin Stockton. "But since then, we have seen the enormous transformation from a grassroots organization, frustrated with the direction our country was heading, to an organization with a platform that reaches hundreds of thousands of people every day."
"There is still work to be done," Stockton continued, "but with the astounding success of the 2012 Unity Rally and the Facebook following of almost 900,000 people, we are encouraged to continue spreading our message of fiscal accountability and limited government."
Founded in 2009, TheTeaParty.net (TTP), a 501(c)4, is one of the nation's largest Tea Party organizations with almost 1,000,000 hits a month and more than 500,000 members. Devoted to providing educational and leadership resources to local organizations, TheTeaParty.net offers free tools, including a national calendar, petitions, Tea Party locator map, free virtual and location-specific events.