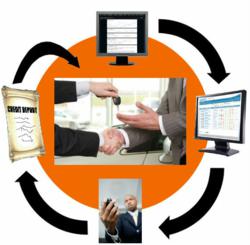 With CBC's eLead Online Credit Application and Lead Generator you not only capture the visitors name, phone number, email, and other information, you also obtain the right to run a credit report and pre qualify the lead before ever making contact.
Fresno, CA (PRWEB) October 08, 2012
eCredit Complete Online Credit Application and Lead Generator, or "eLead" is now available for everyone. eLead is fully integrated with eCredit Complete and is simple to drop into dealerships existing website without any major changes.
eLead works seamlessly with eCredit Complete by capturing data entered into the online application. Data capture is completed once the applicant agrees to the terms set forth on the webpage and clicks an "I Agree/Submit" button. The data is then imported directly into the eCredit Complete application and can be located on the applicant find screen as a web lead. An email is sent to any address or group specified by the dealer. The dealer then chooses to run a credit report or contact the applicant for further instructions.
This new way of pre-screening applicants prior to arriving on the sales lot is changing the way the public shops for and buys cars. It is also helping dealers keep potential customers away from vehicles that won't fit their credit situation early on in the process heeding off frustration and disappointment and pointing the customer in a direction they are better qualified for. All accomplished by pre-screening buyers and already having an idea of what that buyer will qualify for.
Credit Bureau Connection has roots in the credit reporting, regulatory compliance, sales, desking, and F&I system development fields dating back to the early 1980's. In recent years, Credit Bureau Connection, also known as CBC, has become a recognized industry leader in forward thinking credit reporting and compliance solutions.
CBC is proud to be one of only a few authorized resellers to the automotive industry for all three credit reporting agencies: Experian, TransUnion, and Equifax. We have established long-term working relationships with each of the credit reporting agencies.
CBC is a technology oriented company focusing on customer service. We pride ourselves on providing the latest, state-of-the-art solutions for automotive related clients. We utilize high-end servers and hardware, managed in the most secure and redundant data centers in the world. Our software platforms and tools are developed using the most current industry standard software technologies.