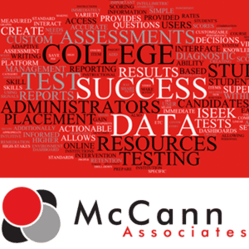 "It's important that our exams are used to assess a candidate's skills, not his or her ability to take a test. This is something we've always done, but now we're doing it better." - Keith Webster, President
Yardley, PA (PRWEB) October 09, 2012
McCann Associates, a leader in the deployment of high-stakes formative and diagnostic assessments for professional and educational purposes, is working to make its already progressive platforms more widely accessible. Assessments from the company are now being modified to be screen reader compliant in accord with the Americans with Disabilities Act. As it works to continuously expand its offerings, McCann will adapt its platforms to accommodate many different kinds of testing and meet the demands of multiple industries and situations.
College Success™ will be the first of McCann's platforms to be ADA screen reader compliant, though all are capable of the meeting the requirements. College Success™ has tens of thousands of items that will be updated to reach screen reader compliance, including thousands of images that will contain descriptions to accommodate the new enhanced testing options.
"One of our goals has always been to offer cutting-edge assessments to our clients. However, we also want to make sure there are no road blocks for those who will be taking our assessments," said Keith Webster, President of McCann Associates. "It's important that our exams are used to assess a candidate's skills, not his or her ability to take a test. This is something we've always done, but now we're doing it better."
Making the assessments ADA screen reader compliant is aligned with McCann's standard practices. McCann has always offered its assessments in multiple formats with adjustable features, including compatibility with screen magnifiers and the ability to change fonts, colors and other options, both online and offline, for individuals with low vision. As its assessment audiences grew and changed, so did McCann's offerings. Assessments for that same test taker can now be taken offline with a large-print or brail test; audio-file questions can be played directly from an online test; and the test takers' answers can be audio recorded and submitted to the assessment. McCann will also soon unveil video testing that provides next-generation accessibility accommodations.
"We want to provide all individuals with the same access to our tests. When you design the layout of a room, you want to make sure those who come into it can move around freely and easily," continued Webster. "We use that same concept when improving our assessments to be more accessible. Poorly designed tests can create unnecessary barriers for those with or without disabilities, and that does not match our company's mission."
A fully customizable Adaptive Learning Environment® and Adaptive Placement Platform™, College Success™ provides knowledge for appropriate course placement and supplemental resource decisions. This system is equipped with computer adaptive placement and linear diagnostic testing, which assesses the knowledge and skills of high school and college students and supplies targeted feedback to address each student's needs.
About McCann Associates
Since 1959, McCann Associates has been an innovative leader in the development and distribution of assessment, certification, business intelligence and personal development solutions. Leveraging advanced technology, McCann provides cost-effective tools via Software as a Service for Higher Education, Government and Public Sectors, Public Safety, Corporate HR and Employee Learning.
###