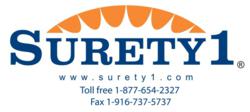 This new market may help those with borderline credit scores still achieve a reasonable rate for their Oregon contractor license bond
Oregon (PRWEB) October 09, 2012
Effective immediately Surety Solutions Insurance Services, Inc. (Surety1) now has a market available for bad credit, Oregon contractors license bonds. This new market is now able to write non-standard accounts at a rate of 5% or less. The bond amount is determined by the type of contractor you are.
General underwriting requirements to obtain a quote, regardless of credit include:

Bond amounts of $10,000, $15,000, or $20,000
Clean license history.
No past, present or pending claims placed on a bond
This new market may help those with borderline credit scores still achieve a reasonable rate for their Oregon contractor license bond. Surety1 offers rapid turnaround time and quality customer service. The staff members at Surety1 are all contractor license surety bond experts and are eager to answer all bond questions you may have.
Keep in mind that other marks on your credit score may be taken into consideration. Surety1 offers a simple online application process and in-house underwriting authority, which both help to get the surety bond completed as quickly and competently. A free quote is just a few clicks away.
Information on the amount and type of Oregon CLB you need available here.
Surety Solutions Insurance Services, Inc. (Surety1) is an independent insurance agency based in Rancho Cordova, California and licensed in all fifty states. Surety Solutions Insurance Services, Inc. specializes in the placement of surety bonds and other specialty insurance products.
For more information on obtaining a Oregon Contractor License Surety Bond, contact Surety Solutions through its website,https://surety1.com, by calling toll-free, 877-654-2327, or by emailing info(at)surety1(dot)com.