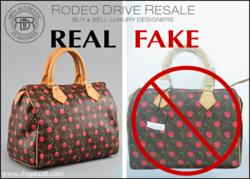 This kind of counterfeit trafficking has repercussions on the economy.
(PRWEB) October 19, 2012
As the international crackdown on phony goods continues; authorities from around the world are seizing fake apparel in record numbers. Rodeo Drive Resale (http://www.shoprdr.com), premier reseller of 100% authentic Chanel purses, Christian Dior heels and Louis Vuitton wallets, highlights recent stories in which counterfeit goods were taken off the market.
On October 4, 2012, Web site Philly.com published a story in which a federal judge sentenced shop owner Yi Ping Zheng to 44 months in prison for trafficking counterfeit luxury items. According to reports, Zheng, owner of the now-defunct store New Discoveries, sold counterfeit Gucci, Coach, Prada, Jimmy Choo, Fendi, Ugg, Dior, Chanel, Tiffany, Kate Spade, and more.
"This kind of counterfeit trafficking has repercussions on the economy," Assistant U.S. Attorney Arlene D. Fisk told U.S. District Judge Eduardo Robreno before he imposed the sentence.
The Philadelphia bust was just one of several major counterfeit seizures reported over the past several months.
On August 22, 2012, The New York Post ran a story in which US Customs and Border Protection reported a seizure of counterfeit jeans worth $325,000 at the Port of Newark. In addition to the bogus pants, phony children's lunch bags were also intercepted.
The bags, which were described by officials as being of "generally poor quality," bore the trademarks and designs of popular Disney characters from films such as "Cars" and "Toy Story."
"Typically, counterfeit items can be determined rather quickly — sometimes less than 24 hours or within a few days," said Anthony Bucci, a Customs spokesperson.
A much larger bust also took place in late August – this time U.S. Customs and Border Protection reported a seizure of four shipments of bogus Christian Louboutin heels at the Los Angeles-Long Beach seaport complex on August 14. According to an August 16 story by dailymail.co.uk., customs spokesperson Jaime Ruiz said the shoes have a value of $57,490, but could have sold for nearly $20 million.
"They label the shipments as generic shoes when, in fact, they're bringing over contraband," Ruiz said about the shoes, which were reportedly set to be destroyed.
Officials said they first sensed something was amiss because the packages holding the 20,457 pairs Louboutins, a French company, were marked as originating in China.
Rodeo Drive Resale (shopRDR.com) has built a reputation of providing amazing deals on handbags, clothing and accessories from the top designers of upscale fashion. The company offers a 100% guarantee of authenticity on each item sold, and works daily with a network of clients looking to buy, sell, or for consignment of their luxury goods. ShopRDR.com loves high-end fashion, and believes finding a high quality, classic piece should be an easy, enjoyable -- and most importantly -- hassle-free shopping experience. For the finest in Louis Vuitton, Chanel, Prada, Gucci, St. John Knits, Christian Louboutin, Tiffany & Co. and more, visit RDR online at http://www.shopRDR.com or call 1-888-697-3725. Also find shopRDR.com's blog at http://blog.shopRDR.com.
Also find shopRDR at:
Blog: blog.shopRDR.com
Facebook: facebook.com/shopRDR
Twitter: twitter.com/shopRDR
YouTube: youtube.com/ shopRDR
Pinterest: pinterest.com/shopRDR
Rodeo Drive Resale (shopRDR.com)
1-888-697-3725
service(at)shopRDR.com