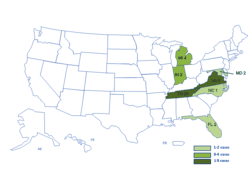 (PRWEB) October 06, 2012
The U.S. Food and Drug Administration (FDA) is investigating a recent deadly meningitis outbreak among patients who received an epidural steroid injection. Although the exact source is still unknown, the FDA reports the contamination is associated with an injectable steroid produced and distributed at New England Compounding Center of Framingham (NECC) in Framingham, MA.
The Centers for Disease Control and Prevention (CDC) has issued a health advisory relating to this outbreak. As of October 5, 2012, there are 47 cases of confirmed fungal meningitis within seven states – Tennessee, Virginia, Maryland, Florida, Michigan, North Carolina and Indiana – and five of those cases involve death. Twenty-nine of the cases are in Tennessee, where a Nashville clinic received the largest shipment of the steroid, according to CDC.
The CDC reports the total number of patients who received tainted injections is unknown. It is also unknown whether everyone who received one will actually get sick. It can take anywhere between a few days to a month from the time of injection to the onset of symptoms, so the number of people affected will likely increase. Symptoms include fever, new or worsening headache, nausea, and new neurological deficit (consistent with deep brain stroke).
On September 25, 2012, NECC voluntarily recalled the following lots of methylprednisolone acetate (PF) 80mg/ml:

Methylprednisolone Acetate (PF) 80 mg/ml Injection, Lot #[email protected], BUD 11/17/2012
Methylprednisolone Acetate (PF) 80 mg/ml Injection, Lot #[email protected], BUD 12/26/2012
Methylprednisolone Acetate (PF) 80 mg/ml Injection, Lot #[email protected], BUD 2/6/2013
On October 3, 2012, the compounding center ceased all production and initiated recall of all methylprednisolone acetate and other drug products prepared for intrathecal administration.
Benjamin Park, M.D., medical officer at the Mycotic Diseases Branch at CDC, reported the meningitis did not appear to be viral or bacterial in nature, but rather it appeared to be fungal and was not the type of meningitis that was transmissible from person-to-person.
CDC and FDA recommend that all health care personnel cease use and remove from their pharmacy inventories any product produced by NECC. CDC also recommends that clinicians contact all patients who received injections using product from any of the three recalled lots to determine if they are having symptoms.
Patients who are experiencing any symptoms should present to a medical provider immediately. Then they should file an adverse event report with the FDA at https://www.accessdata.fda.gov/scripts/medwatch/medwatch-online.htm. Lastly, they should consult with an experienced attorney.
Ennis & Ennis is offering free, nationwide, confidential consultations to anyone who has been diagnosed with meningitis after receiving a steroid injection by calling toll free 1-800-856-6405 or by going to http://www.ennislaw.com and completing an online case evaluation form.
Ennis & Ennis, P.A. has been representing clients individually since 1986 and has recovered over $100 million in settlements for its clients.
Ennis & Ennis, P.A. is also investigating cases involving Accutane, Actos, Avandia, Fosamax, Pradaxa, Plavix, Paxil/Birth Defect, Zoloft/Birth Defect, Prozac/Birth Defect, Depuy Hip Recall, Zimmer Hip Recall, Wright Conserve Hip, Wright Profemur Hip, all Metal-on-Metal Hips, GranuFlo and NaturaLyte Dialysis Concentrates, Medtronic Infuse Bone Graft, Tekturna, Reglan, Yaz, Yasmin and Ocella Birth Control Pills.
Remember the law limits the time in which a claim can be filed, so don't wait to explore your legal rights.