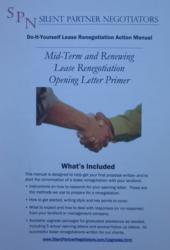 Don't just ask your landlord IF they will reduce your lease payment.
Ventura, CA (PRWEB) October 08, 2012
In this lingering down economy, Silent Partner Negotiators continues working with small business clients to help renegotiate existing and renewing commercial leases.
"We offer a wide range of services depending on our clients' needs," says Wade Horigan, Principal of Silent Partner Negotiators. "Some owners want us to handle the entire process which we can set up on a modified contingency or hourly rate-basis."
But others are more hands on, looking for advice and guidance on how to go about formulating a compelling lease renewal or renegotiation proposal. For those, Silent Partner Negotiators offers several other levels of assistance.
You can order their Lease Renegotiation and Renewal Manual ($19.00) or Professional Lease Renegotiation and Renewal Guide ($89.00).
The latter includes the manual which details the process Silent Partner Negotiators use during a renegotiation or renewal, along with actual successful client letter samples that have saved their clients tens of thousands in lease costs. The Professional Guide package also includes an opening letter review by Wade Horigan and comments/suggestions via email.
Finally, a mid-level option for $475.00 done directly by Silent Partner Negotiators includes:

Complete lease and relevant document review.
Consultations/Emails to fully understand your unique situation and goals.
Lease Market Research for your area.
Custom-written drafts and initial proposal letter.
Explanation of what to expect and ways to handle landlord response.
All three packages offer a money-back guarantee that can be found on their website – http://www.SilentPartnerNegotiators.com.
"Don't just ask your landlord IF they will reduce your lease payment," states Horigan. "Be proactive and create a compelling, fact-based proposal letter and greatly increase your opportunity to save."
Silent Partner Negotiators has been helping clients reduce their business lease costs through principled lease negotiation and renegotiation. They offer full-service, modified contingency-based existing and renewing lease renegotiation for qualified clients. They have also put their techniques into a Professional Guide to Lease Renegotiation that includes 25 pages of lease renegotiation letter samples from actual, successful renegotiations.
For more information, please contact Wade Horigan directly at (805) 320-4801.